Again I proved myself correct, I cannot stand to follow recipes. While trawling instagram I I saw a post for Jamie Oliver's 5 ingredient mushroom soup and that was all it took. Unable to find that recipe I used another mushroom soup recipe. Utterly underwhelmed with the recipe I began working from, let me give you an idea of how I made my mushroom soup.
Ingredients
Jamie Oliver's recipe calls for crimini mushrooms only. I find this odd when there's such a great variety of mushrooms to work with and we all know they're one of the most nutritional foods we can eat.  The mushrooms I used included oyster, portabello, crimini, shitaki & a few chanterells & about 2 Ts of dried porcini I re-hydrated with 1C of boiling water. After  about a half hour I strained the soaking liquid through a fine sieve lined with a double layer of cheese cloth.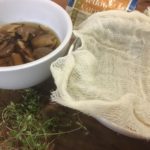 I added this into the simmering broth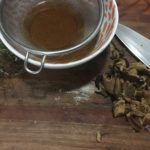 I find slicing mushrooms an absolute joy.
Prepping them, just as much fun. I never wash mushrooms, some I remove the outer layer from the cap and snip the tough bottom of the stem off, then I slice away to my hearts content. JO's recipe calls for a red onion – diced. I happened to have a red onion, I diced half of that. I also added a few thinly sliced garlic cloves. I prepared about 5 Cs of vegetable broth from a bullion cube & boiling water.
Short of adding of a good dollop of cream, currently I'm using Mexican Crema, it's a bit more reasonable & the exact same thing as creme fraiche, to well sauteed mushrooms, onions
& a sliced or minced garlic clove or two I splashed it all with a good jerk of Outerbridges Sherry Pepper sauce, my absolute favorite food additive and a few showers of my Grain moon eclipse blend Salt of D Earth. Should you not be as much a nutter for Outerbridges Sherry Pepper sauce as me, a splash of Marsala, brandy, standard white wine, or a good squirt of lemon juice will help brighten the mix.
Begin by cooking the mushrooms & onion with a knob of butter or olive oil if you wish for a good 20 minutes or until all the mushroom liquids cook off, then hit this mixture with a shot of the wine, or lemon juice, then add say, four cups of a broth or stock and if you have it, the strained porcini mushroom broth , fresh thyme. Turn the heat down & let this simmer for a good 15 – 20 mins. Turn the heat off  & let the mixture cool before adding a good dollop or 2 of the creme, heavy cream, half & half or milk.  JO's recipes calls for making a cornflour roux, which I did but I think this is completely unnecessary.
Transfer in batches to a blender or use a wand to emulsify.
Serve with any number of garnishes, parsley, truffle oil, croutons, or maybe chanterelles or any mushroom you wish – garnishes – what a great an infinite topic that could be for a cookbook. I get so many iDeas each and every day.
Must jump now in hopes of capturing a few of my fleeting thoughts.
Oh, this made a nice amount of soup. I think I got 6-8 servings out of it.