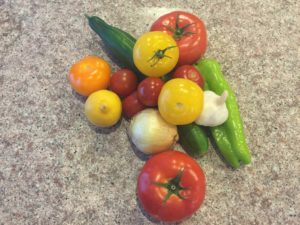 Last year my dear friend invited me to join him & his sons for dinner since his wife was overseas for one of the largest international art fairs.
Upon my agreement the texts started rolling in about what should we whip up?  My suggestion – without a beat I suggested Gazpacho. They're pretty staunch vegetarians so maybe this had something to do with my thinking.   The suggestion returned exclamation points so I started reading recipes – this being the first time I'd be making it. After reading my obligatory, at least 6 recipes, I settled on the only one that did not use soaked bread & seemed the most authentic, Spanish to me. It called for more olive oil than the others and the inclusion of the cubanelle pepper  . Then as luck would have it & the power of manifesting, I had to show the apartment on the same block as Chelsea Market. I ran through the Manhattan Fruit Exchange scooping up a variety of tomatoes, the cubanella pepper which I was thrilled to find and learn about, a lemon, a white onion, a head of garlic & a hot house cucumber. Vinegar I knew they'd have.
In no time at all Glenn & I served the Gazpacho – very cold. It had it's time in the freezer while we made a pan of sautéed mushrooms & brown rice.  Every one loved this meal so much, I kid you not, the boys still talk about it.  It was their first time having Gazpacho.  We topped each serving with perfectly cubed avocado pieces served in Spanish soup bowls.  Clearly a meal to remember.
CUT TO:
This year. One of my besties sent a photo of a heap of vegetables via text with a message that read; Gazpacho. Noon? Will you make?  YESsirree I will – was my reply.  Here's an idea of this year's array of ingredients
Pretty much the same as last year.  It's natural. All these ingredients go together so well.  BUT, this friend does not have that, whatever it's called, a 7th sense?, to pick ingredients, this year's gazpacho would need a lot more TLC to bring it all together compared to last year. V8 was the answer.  I'll explain shortly.  Rather than a hot house cuc, I had a standard – fine. Cut in half lengthwise & D-seed by running a teaspoon along the strip of seeds.  Painless.  Next the tomatoes. We had 3 standard, nothing special tomatoes.  Cut whatever tomatoes you're lucky enough to work with into 1/4s, remove the the stem bit and course sections and the seeds.  I use white onion, we had red – fine.  I use white onion because red onions tend to be more expensive and for this dish where you won't see them, I don't see it as being worth it.  garlic clove – OK, one.  Lemon. I used a squeeze from a wedge & a splash or red wine vinegar for each batch I made. I work with a small Kitchen Aid Cuisinart style blender and then the oil.  I fill the oil well on top which drips through in a steady stream in the final puree stage. At the beginning I start by just chopping.  I have included roasted red pepper when I make this for one of my clients.  I'll only use a cubenelle style pepper. Today I picked up  a small on at the Thompkins Square Farmers market. I sliced the pepper in half lengthwise, d-seeded it then sliced one half of the pepper horizontally and and tossed those bits raw into the first two batches.  Then I roasted the 2nd half of the pepper holding it in tongs over a flame on the stove.  Roasting the pepper really brings a great heat to the Gazpacho.  Checking my yield from the vegetable puree alone I added one 11.5 oz can of V8 juice to the mix. Tasted for seasoning and felt it needed a bit more salt & a shot of lemon juice.  I love working with a very course, seasoned salt for this dish. I use a salt a friend brings me from the Tuscan region of Italy. Course & nicely herbaceous.
I popped the serving bowl in the freezer for less than a half hour. Sliced and toasted baguette slices, took everything down to the garden including a goat cheese and pea-shoots for garnish.
Gazpacho is a brilliant dish. A real crowd pleaser and fun to make.