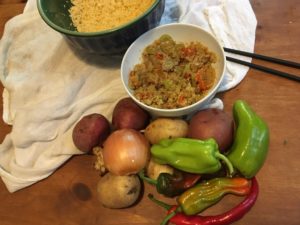 Mindful living & cooking as a meditative, therapeutic exercise has been the message of Recipes 4 Survival for a very long time but now I'm hyper focused on trying to uphold and live as closely as I can to the zero waste philosophy & lifestyle. With this in mind I'm only buying and trying my best to work with groceries that are not packaged or wrapped. I hope you'll try this too. I think as you read on you'll realize what a great mindful exercise this is.
My first 'haul' from the Union Square Farmers Market Friday was this: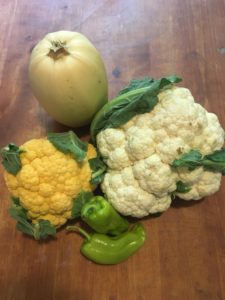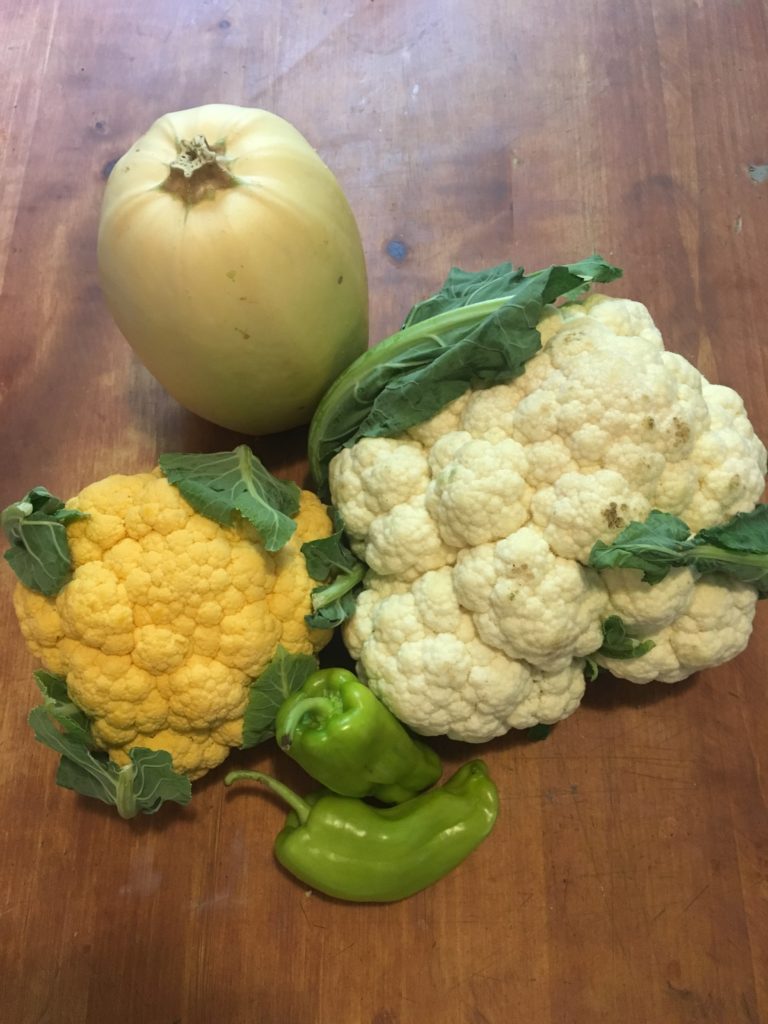 I went to the Union Square Farmers Market with the intention to make a cauliflower velouté. The white cauliflower would be for the velouté. The yellow cauliflower – that'll be the 'rice' dish.
Meanwhile, the first thing I made, immediately after unloading this beautiful produce on to my kitchen table from my reusable shopping bag was; I thinly sliced the Italian frying pepper across both vertical half sections, sautéed the peppers in an almost dry pan, then whipped up 2 eggs & added that to the sautéed peppers for a soft scramble. I ate this with a toasted wedge of a baguette with a swipe of olive oil mayo – from a glass bottle and a glass of ice cold Jamaica's Choice Citedelle Ginger Beer – from a glass bottle.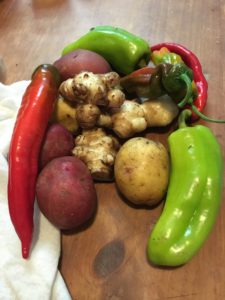 So thrilled with the beautiful produce this time of year a few days later, this was my 'haul' from the very small Sunday farmer's market on Avenue A, in front of Tompkins Sq. Park because I forgot to pick up potatoes which are called for to make the cauliflower Velouté which is how this all started.
Again the velouté is on the back burner and all I wanted to make was that yellow cauliflower stir fry rice and thats exactly what I did. I've got to say, this just might be my favorite dish right now. It came out perfectly. It was so flavorful I didn't even think of using a splash of Tamari. OH, need I mentioned, I did not research, not one recipe for this. This my friends IS INTUITIVE COOKING.
OH, to make cauliflower rice, if you don't have a food processor, a box grater is great. With a food processor add as many of the flowerettes that will fit in the canister? comfortably the pulse and chop. You'll have cauliflower rice in no time.
Here's what I did – in no time at all, 20 mins maybe: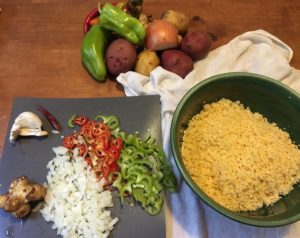 I sautéd the thinly sliced peppers. The large red one in circles or coins and one of the green peppers again, in thin strips across a vertical half. Then one of the sunchokes, again in thin slices, half of a diced onion and some garlic in an almost dry pan. I used some oil to barely coat the bottom of my frying pan & a shower of my most recent, Libra blend of Salt of D Earth.
Once the vegetables were well softened I added the cauliflower rice. I turned the heat down a bit and stirred to well coat & marry the cauliflower rice w/the veg. Then I added, maybe a 1/4 of water, gave the mixture a good stir, turned the heat down a little bit more, put a top on the pan and let that basically steam for 5 minutes maybe – until it was the soft tenderness I was looking for.
I've always thought of Recipes 4 Survival as being episodic. Please circle back here for the velouté entry, recipe and more about grocery shopping and zero waste mindfulness.
0