I ARRIVED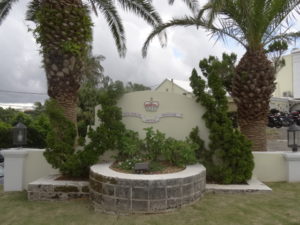 Royal Hamilton Amateur Dinghy Club
Now SEA Yah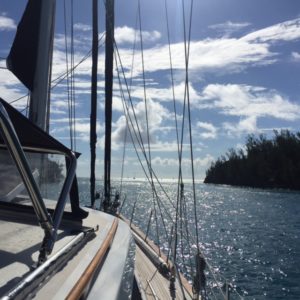 I was so wishing to get to Bermuda during the America Cup challenge, I kept putting it out there; to various friends that were there and of course the universe. Word started to get back to me that the yacht I pinch-hit on as a Chef a year or so ago was down there, I should see if they may have room for me aboard. I kid you not, the next day I got an email from the Captain replying to one of our first email strings from about a year ago asking if I could be in Bermuda on the 26th or 27th to help on the Dlivery back to Newport.  It didn't take much to cover my bases, book a OW flt for a noon arrival in to BDA, for Mon. the 26th.
Crew Description & Drama
The Captain's phone went straight to voicemail when I called to say I was at the gate for the Royal Hamilton Amateur Dinghy Club docks when sure enough, I noticed a swaggering silhouette to be that of my Captain's. He offered to take my bag, I kept both. Within a moment he warned me of a great deal of drama going on. I'll spare you the drama short of a few fun details like; the 27 year old spit fire blond with a ponytail nearly down to her waist pawns herself off as a yachting Chef had a fight with the owner's wife the night before she was jumping ship for a wedding in S.Africa. They were both drunk.  The first mate, another young hotshot was kicked off earlier in the week, for drinking and sassing off at the owner which further pissed off the outgoing Chef because they had a thing for one another, the owner's side kick friend for over thirty year, who the owner's wife can't stand now because he divorced her best friend, the new first mates late arrival whose seventy two year old, bearded, bobble headed, crooked frame, dungarees & torn commercial fishing T-shirt, proletariat looks also seemed to rub the hungover owner's wife the wrong way.
I did my best to skirt the kerfuffles by being in a conversation with Phil in the cockpit over a Maker's Mark with one cube as I began to learn the details of the trip, the players aboard and more about the drama. The crew would be the Owner who's a never satisfied, demanding dickhead and his dumb-ass side kick friend who's always dreamed of 'bluewater sailing' but fears of being seasick have deterred the venture but his current single, midlife crisis status, compounded with the fact that he's so useless he can't even make himself a bowl cereal or toast makes him a demanding dead weight and the perfect specimen for a control freak to create a monster out of. The Captain, with movie star looks, the perfect stand in for a Central Casting's Captain: snow white hair & beard, sparkling blue eyes, a permanent smile. The skin on his forearms is so sun scorched it looks like blackened leather. He's thin & wiry like a worm which is what the fire plug Napoleon complex owner calls him.  He owned and ran a legendary Jazz club in Maine adventures of which most of his fantastical stories are told about. He was an Air-force pilot and has done more than 60 deliveries of this route exactly, BermuDA to NewPorT. He's a perfectly reasonable guy, highly regarded & the mate on this trip, who scared me initially because of his rough demeanor I came to love  in a very short time.   A 72 year old, native of Rhode Island, Navy veteran, he claims, "I don't know those yachting folk, I'm not into yachting, I just do deliveries." The stats for one of his trips is this:  37′ boat, 72 days at sea, Philippines to SEAttle. Bobby's three day a week job is as the security guard at the Middletown dump which he likens it to being like Christmas for him.
Provisions
I could go on writing about these characters for days and I hope to at some point but I'll stay the course and share some Sea Eats which is why I'm writing here but one more little bitch…it wasn't until we'd shoved off from the fuel dock in Hamilton and we were underway motoring to St. Georges to clear out that I started to root around in the fridges. Oyy…what a nightmare. The Chef who had been on board for nearly a month and provisioned for cocktail parties for an average of nine, daily. One whole fridge was transformed into a wine cooler, where I fished out two, four pound zip lock bags of the worst tasting chili ever, (which I was asked to try and doctor up) 5 pounds of boneless chicken breasts, 2 packets of smoked salmon, a zip lock bag of BBQ ribs the owner said also had a horrible taste to, 1 bag of left over strips of filet mignon and Oh, I kid you not, no less than 5 packages of bacon, two of which were opened and half used.  In another fridge were commercial size bottles of dill spears & jalapeno peppers? garlic dents in olive oil & mushrooms all floating in sodium benzonate & bisolfite liquid, Romaine lettuce, a few usable stalks of celery on a chipped away head I'm sure for Bloody Mary's, a head of cauliflower, a small plastic bag of shredded carrots, Brussels sprouts, which the owner told me if I cooked on board he'd throw me over – so why in  hell were they on board in the first place?   The bread cabinet had 4 or 6 English muffins, various bags of half loafs of sliced, whole wheat, sourdough, rye breads, hot-dog, hamburger rolls & some kind of white Italian roll and 4 unopened pacs of a half dozen bagels which prompted me to dig further in the 'dairy' fridge where I found 2 packs of smoked salmon, 2 small tubs of creamed cheese – one prepared with capers, an unopened plain one & Needless to say, the boat was ill provisioned for a delivery
Tuesday morning was a three ring circus on board with the Chef trying to get her unzipped hockey bag for a goalie off the boat while the wife, whom the Chef had a fight with the night before also prepared for her departure.  Coffee was made, logistics to get the wife to the airport, return of the moped, fueling up for the delivery but for provisions – we should be fine really. I couldn't have been more thrilled when the Captain told me we desperately needed paper towel and handed me the boat credit card. The Chef yelled over her shoulder as she jumped ship, "Oh, and maybe some heavy cream which the Captain likes on his cereal and some greens & American cheese. I couldn't get out of the mess fast enough and get to a grocery story because there is NO WAY I was going to be on Bermuda and not get me some Outerbridges Sherry Pepper Sauce . I walked to the grocery store with the only direction being, stay to the left, pass the AC bldg and you'll find it. Grocery shopping helps me feel like I can bring some order to any maelstrom. I have a whole story just about grocery shopping here, how I miraculously got a pint of heavy cream & the ride back to the RHADC – but that'll be for another time.
SEA EATS
Once we were underway to St. Georges to clear out with 600 liters of diesel had, & a case of diet coke I was ordered to have on board I whipped up what I refer to as Bat Mitzvah bagels,
served with cold OJ & a carafe of strong Starbuck French roast.
Here's a couple of things I made on board, flat meat sandwiches, w/greens, relishes, mustards on various breads, hummus & crudite, a tomato, crouton & feta salad. I made a rice with haricot vert, asparagus, onion and bits of left over filet mignon and an arugula salad. Fried egg & bacon sandwiches, orange juice, carafes of very strong Starbucks French roast, my made up Chicken at Sea which every one liked except the Owner.
Here's a quick 'recipe' for my offshore cook-off Chx at Sea: cooked off medium diced boneless chicken breast, in a court-boullion  onion, celery, shredded carrots. I tossed 2 peeled, diced granny smith apples in I noticed in a basket in the lower salon. I let this cook down and simmer for nearly an hour then added half a bag of egg noodles & another 2 cups of water to the mix and served over rice. Captain would have loved it more if we had his Rolands chutney, but non was to be found on board. The pot was empty when I woke for my 7AM call. The owner made it a point that he wasn't really in the mood for chicken & I should make my way into the deep freezer and give him an inventory of all that's in there.
AyAy sir…in order to get into the deep freezer the cushions from one of the galley banquets needs to be removed, the top which weighs at least 10 pounds is removed my pulling on two lines at diagonal ends of the top. Low & behold here was a mother load of meat. I pulled out a 7.5# pack of boneless NY strips, 4-5 #s of ground beef, and a pork loin. I took all this out & threw the horrible chili in there & 3 packs of bacon.
So after whipping up the Chicken at Sea dish I was back at the stove thawing out the ground beef & I made a Bolognese after digging around in the salon storage area where I found one, 12 oz can of stewed tomatoes, 2 nice packets of organic gemelli pasta but not a can of marinara on board. The late Chef's bloody mary mix was a good substitute. This, a Ceasar style salad which I made when the guys asked for some garlic bread with their Bolognese, dark chocolate pound cake with blue berries & cream shut him up for that evening.
But really all I want to share about here is the tuna tartare I got to make for my friends, on land & would have made for Owner Bligh who caught a yellow fin earlier our last morning offshore. Instead he got this pan seared, black & white sesame seed coated tuna loin served on an onion & garlic rice pilaf &  blanched asparagus with a lemon butter & toasted shallots.
Again about intention & wishes, I so very much wanted to make a tuna tartare, the fortunate thing is I got to make it for grateful friends.
I want to end this piece with a line Bobby told me he was told by the long time owner of The Black Pearl, Barclay, "Good people like ships rot in port."
With that, I'll sea ya!