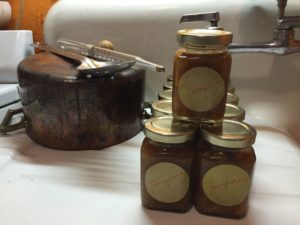 I bought a 3# bag of tangerines vs a crate of clementines at the cost of three times the amount of the tangerines. The only problem with the tangerines is the mad frustration I found eating them because of the copious amount of seeds they have. Now I think I know why tangerine juice is such a hard to find commodity.
What made me think of making marmalade I have no idea except for maybe being out of mind with frustration at trying to get pulp through the seeds – so I found myself note to the keyboard researching recipes for marmalade. First & foremost I knew I was not going to go thru some crazy procedure to make marmalade. I found the easiest, most efficient recipe, forgoing juicing & grinding of pulp recipe & went with it. Of course I tweaked the recipe to use ingredients I had and techniques I felt comfortable working with so I feel confident you to will relish in this fabulous delicacy.  It's really easy to make. Way easier than pie.
Here's what I used: 
Cutting board & serrated knife
Good sized mixing bowl
1 heavy bottomed pot
whisk or slotted spoon
Candy thermometer – not absolutely necessary. I happen to have one so I kept an eye on the temperature read to be between 210 – 220 degrees. Doing my best to maintain a medium boil at the 2nd stage when it had the sugar in it.
2#s of Tangerines – cut into quartered wedges
1 lemon – cut into a quartered wedge
5 Cs – water*
3.5 Cs – sugar
**nutmeg, cinnamon & a teaspoon of star anise
What I did:
With a serrated knife I cut the top & bottom of the tangerine off. Cut into quartered wedges then across the wedges removing any pith and or seeds.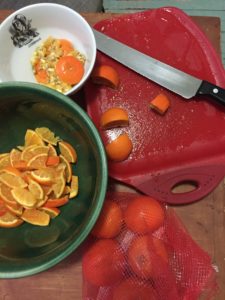 I retained the tangerine ends pits & pith thinking I would gather this up in a cheese cloth ball and hang in the mixture when it boiled but as timing would have it I never did this step for my first ever batch of tangerine marmalade
When you've successfully cut and sliced through all the tangerines and you've got them into a good sized mixing bowl cover them with 5 cups of liquid as called for in the recipe BUT I used 1 cup of tangerine juice, 3/4C of pineapple juice because I had it in the house & the remaining 3 Cs of water I used from my infusion pitcher which I had just freshened the night before with lemon & pineapple. The tangerine & lemon slices sit at room temperature for a day in the 5Cs of liquid in the bowl covered with Saran plastic wrap. Looks like I forgot to take a snap of this step
The next day transfer the fruit & the liquid they soaked in to a heavy bottomed pot and bring this to a boil the reduce heat to a simmer for at least an hour and a half. Cook until rinds dare tender & the fruit is falls away from the rind.
Because of my schedule after this stage I put the pot into fridge until the next stage which is when you add the sugar, mixing until the sugar dissolves before it goes back onto any heat. This is when I added a few nutmegs, a stick of cinnamon & a teaspoon of star anise in an infuser – to the mix. Bring the mixture to a medium boil, 210 -220 degrees on a candy thermometer if you have one for about an hour & 20 minutes.
Let the marmalade cool before pouring it off into bottles. Store in the refrigerator.
The next step is all up to you.