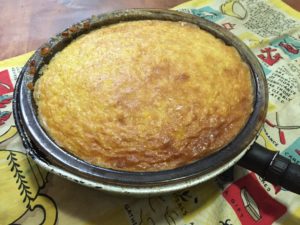 I put myself up for a cooking competition.
The dish I'd be presenting was ancho chili infused maple syrup pan seared sea scallops on a corn pudding round w/creamed corn under and around that, dried cranberries sprinkled about, a drizzle of the reduced maple syrup glaze and pea shoots as a garnish and for some color. Pretty perfect if you ask me and it came out – perfectly.
I'll spare you the gory details about how many corn pudding recipes I read before going at it with only staple ingredients I have on hand tho I did buy a quart of milk. I worked primarily from one recipe while incorporating tricks or ingredients from a few others. First tho I prepared at least 2 cups of creamed corn which was called for in most of the recipes I looked at.
Here's what I used:
1 C – creamed corn*
1/4C Turbinado sugar
3T – all organic corn meal flour – the recipe called forall purpose flour
2t – baking powder 
1.5 t – salt
4 – eggs**
2 Cs – milk – the recipe I used as a spring board called for 2 Cs whipping cream
3 Ts – melted butter.  The recipe I used as a spring board called for 1/2 C of butter – melted
2 Cs – all organic corn, cooked, – 1 C yellow kernels & 1 C white kernels
What to do:
*For the creamed corn: I cooked off 2 Cs of all organic Whole Foods brand of frozen corn, 1 C yellow kernels & 1 C white kernels. I cooked this off over a medium heat in about a 1/4 C of water. While this cooked off I prepared the roux with about 3 Ts of butter & 3 Ts of King Arthur organic unbleached all purpose flour mixed quickly and then began to add the milk and at least a half cup or more of the corn cooking liquid. NO brainer. Add the drained warmed corn. Incorporate well through the cream sauce. Puree in an appropriate blender or food processor.
So you have full disclosure I boldly added a secret ingredient as a liquid to my roux for the creamed corn. A week prior to this cooking contest I had the luxury of snagging a pint of lobster cooking liquid heavily laden with tomalley, the 'green stuff' in a cooked lobster so I chipped about 3 Tbls out of the frozen pint of the lobster cooking liquid and got that into the roux mixture which I feel brought a real high note to the creamed corn. I can't imagine anyone else doing this but it's all about truth & transparency with me.
For the corn pudding:
Preheat the oven to 350 degrees
Combined the sugar, flower baking powder & salt in a mixing bowl.
Whisked the eggs**,I beat 3 of the eggs & separated one – beating that yolk into the 3 beaten eggs and whipped the whites to medium peaks – the recipe I used as a spring board called for 6 lg eggs, milk & melted butter together in another bowl then gradually added the sugar, flour mixture and whisked until smooth.
Then I added 1 C of  creamed corn & 2 Cs of the yellow & white cooked corn into the batter then folded the egg whites in, mixing thoroughly.
I poured this into a prepared, butter greased, 9″ glass pie dish. I fit the glass pie dish over a pan half filled w/water. It cooked for a good 45 minutes. I turned the heat off and let everything stay in place another 15 mins.
The corn pudding cool on the table on a tea towel for a good half hour then I put it into the fridge covered with the towel. The next day I cut 4 perfect rounds out by turning a mug upside down on the pudding and cutting around the rim of the mug.
Pictured here is a test of the pan seared scallops on a bed of the creamed corn. What I learned from pan searing  scallops is that with the Ancho chili infused maple syrup marinade I did not need extra oil in the pan to sear them off.  The contest dish was much more beautiful with perfectly pan seared scallops on a 1 inch high round of corn pudding with creamed corn oozing out from underneath it and and dried cranberries sprinkled about.