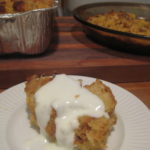 All I knew was that I wanted to make a bread pudding out of left over scones.
I had about 4 scones in my freezer for way too long left over from a tea party I helped cater.
I'm not sure how I got on this bread pudding 'jag' – but I did.  Once I get on one of these 'jags' I start researching and comparing recipes to see what ingredients are called for and what I have on hand. I find Martha Stewarts' recipes the best to work from because they're well tested.
Here's what I did to make what I call scone bread pudding : I mixed 6 eggs with an electric hand mixer*, 2 cups of milk – cold, right out of the container and a scant cup of (turbinado) sugar. *If you don't have a hand mixer, a fork or whisk will certainly do.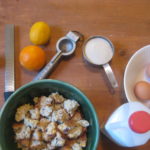 Ms. Stewarts' recipe calls for the zest and juice of 1 lemon and 1 orange. I complied because I consider a lemon and an orange a basic staple I always keep around. Clearly you can make a bread pudding inspired Dssert w/out the juice of a lemon and an orange.  I added a shot or two of some brandy I had around since the winter holidays when I served a hot spiced tea.
I poured the egg, milk, sugar and juice mixture over the dried out crumpled blueberry scones.I'm not sure how much my 4 crumpled up scones weighed.  Ms. Stewart's recipe calls for 9 oz. of day old French bread, w/the crust cut off. All I knew was that I wanted to make bread pudding out of these left over scones.
Another message Recipes 4 Survival hopes to share is, MAKE A RECIPE YOUR OWN. I have what I have and this is what I'll work with. I stirred the scones and egg mixture for a good long time and let this sit with the hope that the scones would soak up as much of the egg mixture as possible.
After about a half hour I poured as much of the scones and egg mixture as I could fit into a small loaf pan and put the rest in a Pyrex baking dish. I prepared a Bain-Marie  – which is nothing more than a water bath and popped both baking pans in to a 375• pre-heated oven.
30-35 minutes later the batch in the Pyrex baking dish was ready. The batch in loaf pan cooking in the Bain-Marie definitely took longer to cook – almost an hour and a half.
Of course I dug right in, topping a good sized slice w/a dollop of vanilla yogurt I mixed some beautiful honey into.
I love this dish but I love sharing it even more.
EnJOY!
FoodD