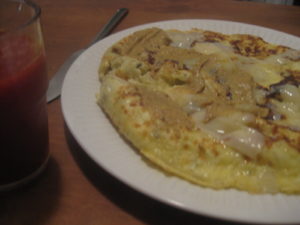 Only after surveying a close group of friends and then looking up the statistics for how many root canals are performed each year in the US, that's around 30 million, that I sucked it up and put this entry out there. So there you have it, I had to have a root canal. With my self imposted stigmata behind of an aching tooth and oral surgery behind me I happy to share this Dlicious comfy dish I whipped up with ya all.
Not only did I have a constant dull throb from my #19 bottom left molar an overall dull malaise had taken me over, just shy of my inability to cook.  I put together a savory, tortilla style French toast which I made from the hind quarter of a beautiful loaf of Blue Ribbon Bakery Market rye bread, farm fresh eggs, yogurt milk & shaved sharp provolone – all ingredients I had on hand.
I got 3 nice sized slices from the rye bread loaf, cut the edges off and cubed the bread. I mixed about a half a cup  of Whole Milk yogurt into 3 large scrambled eggs. I scalded about a cup of Half & Half and tempered that into the egg & yogurt mixture and a good dash of Salt of D Earth. I put the cubed bread into the egg mixture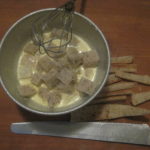 mixing it occasionally over about a half hour until it became soft and soggy.  This is just what I wanted.
I got my non stick pan very hot with a bit of olive oil and one small pad of butter and slid the egg & now soaked bread mixture into the hot pan.  Just like making a tortilla, the bottom of the pan has to get very hot so the bottom comes together which takes a good 3-4 minutes.  Once the bottom seems to hold together, even though the top is still quite 'wet' if you will, put a plate that fits over the top of the pan, walk over to a sink and FLIP.  slide the wet side of the French Toast into the pan which should be very hot and Cook another 3 minutes or so, and slide your unified, savory French Toast onto a serving plate. I topped my savory French toast with a thin slather of a grainy brown mustard and I had a glass of organic tomato juice.
I went through the procedure like a champ I was told. If you need a recommendation for a endodontist, I've got a great one – in Manhattan's midtown east neighborhood.