Imagine, if you wish, how many chef & restaurant newsletters, food -blogs, foodie magazines and the sorts that I get on any given day – suffice to say,  "A LOT" and I pretty much peruse all of them to see if something will catch my eye. Sure enough, just this morning in Lucky Peach subject line: What You Need to Know About the Trendiest Beer, Squash, and Opening a Restaurant. All I saw was: What You Need to Know About Squash then I scrolled down through the email until I stopped at this picture & recipe: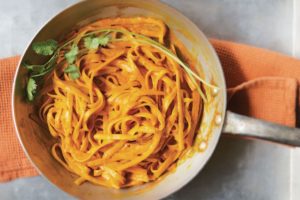 Fettuccine with Butternut Squash and Red Poblano Crema. So I clapped onto this glorious looking dish, pictured in a pot just like my favorite pot. Learning that red pablanos can only be had for about two weeks a year I was out the door and off to the Union Square Farmers Market like a shot. 
It was nightmare Wednesday the 9th that I made my first batch of my all time favorite dish, SpecialD now – Rick Bayless' Fettuccine with Butternut Squash and Red Poblano Crema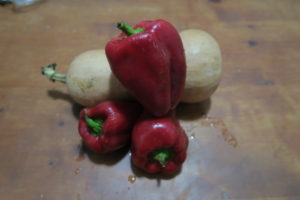 First things first- roast the peppers and 3 or 4 garlic cloves in their skin. You'll have to shake the pan under the flame or turn them over to thoroughly char the pepper's skins. While this is cooking prepare the neck of the butternut squash into1/8″ planks
Then into ribbons.
By the time you're done with this the peppers and garlic should be ready to be removed from the oven. When they're cool enough to handle, remove the skin and seeds.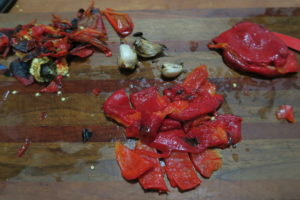 Cut the best looking pepper into ribbons, these will be used as a garnish. Coursely chop the two other peppers and toss them into a food processor with the roasted garlic dents.  Season to taste with S&P.  Then you add about a cup of Mexican crema which can easily be substituted w/sour cream or creme fraiche.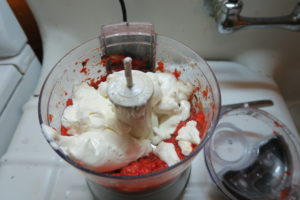 Cook the butternut squash ribbons off in well salted water for about 4 minutes. Pour the red poblano creme sauce into a pan over a medium flame/temperature. With a slotted spoon or tongs add the cooked off squash to the crime sauce and add 8 oz of fettuccine to the boiling salted water. I used fresh pasta which cooked off in about 5 – 8 minutes. Always reserve at least a cup of cooking liquid. Add the pasta to the creme sauce & mix in the roasted pepper ribbons and about a 1/4 cup of Parmesan.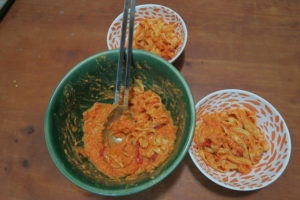 Top with finely chopped cilantro- if you have it. Dish out, eat up!. Who ever doesn't think this is the most Dlicious meal, dish, food, sustenance, cibo,  they've eaten in a long time, ya gotta let me know.
After making the Butternut Fettuccine for a second time I roughly chopped up the leftover bottom, cleaned out the seeds and steamed that off.  While this steamed off I tossed a can of Trader Joe's smoked trout and a dollop of olive oil mayo w/a grated apple which I slathered onto a toasted baguette wedge and ate w/the steamed butternut squash chunks.
Last but certainly not least I whipped up probably the best Butternut squash (& leek) risotto I've ever made.  Back at ya with that very simple recipe.