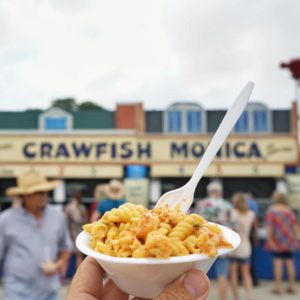 I'm totally sentimental this weekend having spent much of the winter looking forward to taking this week off to get thee to the New Orleans Jazz & Heritage Festival this weekend. I had even lined up friends to loan me dress up gear, a boa, a mask, hat, dress, make-up etc. I was dreaming to get all decked out in purple, yellow & green, I was even looking forward to standing in line to gobble up some Crawfish Monica.
When I began thinking about writing this piece, I reread what I'd written after my first Jazz Fest visit and I think it's so nice I'm including it here. I'm changing up the Crawfish Monica recipe because, you guessed it, I have to make it my own, working with the staples I have on hand. Since I'm not there at least I can make believe listening to WWOZ and eating like I am. But first a bit about my first trip to the New Orleans Jazz & Heritage Festival.
For decades now various groups of my friends have bellowed at me in disbelief that I, of all people, considering my love for music, passion for the Blues, food, history & symbolism had not gone to the New Orleans, never mind Jazz Fest. This would not be the case very much longer.
My entire Jazz Fest weekend was sorted out months in advance by a native of Louisiana, veteran festival attendee, mad foodie & hugely resourceful friend of a friend with friends in many places. I had to shed a number of deep seeded qualms but with that hurdle leapt and a few crib notes of my own I was off to New Orleans.
My first approach to the fairgrounds was a very daunting affair 'Elton John Saturday'.
Mother Nature was showing off that morning giving us her most perfect festival weather in days so to begin with I learned very quickly that my friend had not seen traffic backed up the way it was since Bruce Springsteen played the festival a few years ago. Her parking spot at her friend's home just around the corner from one of the main pedestrian aortas was taken so we were forced to drive around to the exact opposite end of the fairgrounds, paid to park on a front lawn, then weaved our way for what seemed like miles through a neatly maintained neighborhood of ranch homes where hawking kids saw brisk sales of lemonade & water. Then we were finally at and through a few security checks points, ticket scanned, a walk past the stables then onto the pitch and that's when I saw the CRAWFISH MONICA 'booth'.
Like the sound of a gong going off in my head a calm came over me, I felt settled in, as I recalled and heard my dear friend Suzie B's distinctive voice saying, 'You've gotta have the Crawfish Monica". Note 'gotta have' and not try, crawfish Monica. She said this to me so emphatically this is when I caved, 6 months prior to Jazz Fest, in Austin, Texas at Suzie B's Rocker's for Knocker's benefit to raise money for her medical expenses in connection with treatments she's in need of. The response to her benefit was overwhelming and it spurred the last prod that got me to The Big Easy.
On my first ever approach to the CRAWFISH MONICA 'booth' I said to the smiling, freckle speckled young woman wearing her orange crawfish Monica T-shirt & baseball cap backwards, "I'll take a life time supply please" and I hadn't even tried it I also told her – but boy oh boy I could see that this was a dish I was going to eat right up.
So without further ado, let's see how I'll make CRAWFISH MONICA – My own
INGREDIENTS
1/2 # organic pasta – I used fusilli Rotini is what most recipes call for.
3 T butter & olive oil
1/2 large onion – diced
3 garlic cloves – minced
1/2 jalapeno minced
Cajun spice mixture – primarily paprika, fresh ground peppers, dry mustard, salt, & herbs
Sriracha sauce – – squirt
Splash of white wine – I used 1/3C of VooDoo Ranger IPA
Lemon juice – from a good sized wedge
1C heavy cream – I used a good 3Ts of cream cheese because I had it
1/2 # crawfish tails
Chives or scallions for garnish tho I used chiffinod radiccio
WHAT I DID
I began by cooking off a 1/2 pound of organic radiatori in a well salted rolling boil for 9 minutes. I retained 1/4 C of the cooking liquid, drained the pasta, returned it to the warm pot, added the cooking liquid & swirled some olive oil over & stirred it. Let that sit with a top on the pot.
I created my own Cajun spice mix as described above. Many spice mixes like this call for onion & garlic powders. I never use them because I've never found a quality source.
Dice, mince, & prepare the veg ingredients because once this dish starts cooking it comes together very quickly.
I happen to have butter in the 'frige because of recent sublets so I used that to cook off the onions, garlic & minced jalapeno. Do not let the onions get color. They cook over a medium heat for about 5 minutes. Add your spice mix. Start with 1 teaspoon – especially if you included cayenne pepper in your spice mix. I used 2ts plus the squirt of Sriacha sauce. Squeeze the juice of a good sized lemon wedge & a splash of wine. Cook until just evaporated then add the cream cheese & crawfish. Cook down to thicken.
Pour the cooked pasta into the crawfish & cream sauce. Stir and serve in bowls. Garnish how you wish.
A number of recipes call to add a cup of Parmesan but I didn't – for a # of reasons I'll spare you – no wait – one reason, the Italian, Mediterranean diet expert in me would never add cheese to a fish dish. The more I think about it, I think what the Crawfish Monica/Kajun Kettle inventors do is make a Mornay sauce which is a basic bechamel sauce which a Gruyère and Parmesan cheese is added to.
I'll eave you with that. Let me know who delves into making this delicacy.
LOVE your FoodD