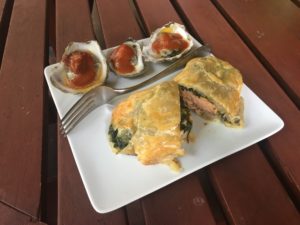 I bet no one noticed I'd stopped cooking. I barely noticed myself until I kicked myself in the ass and said, "You're not going to succumb to the shit that's coming you're way. You're going to have to change things up here and again Recipes 4 Survival saved me. I'll spare you the gruesome Dtails short of: I'm dispute with the Dept of Labor thus began a slippery slope of letters I don't understand – forget that, too painful. Then a job I had my heart set on was filled, my friend who takes care of RhODy during the day had an emergency to look after in France – for 10 days just as I was beginning a new job I was hired for – which is just the toughest thing I've done, catering wise. I'm working like Im in the army and like one of my bestie says, "No one cares what you think. You're hired to be a soldier. You're a soldier. Soldier on." AND RhODy got so sick I was at the vet 4X in 6 days.
Let's get to the healing! I think the synchronicity of checking out the READYMADES BELONG TO EVERYONE at the new  Swiss Institute on St. Marks Place. One of the installations was a wall of T-shirts & boxes all having to do with print, font, consumerism, and quotes when I noticed the very well known, but unknown to me until this moment, Churchill saying, "When you're in Hell, keep going."  Hand to the sky & clouds, seeing this changed my mind. I knew I needed to cook and I had an idea. A spark had fired.
During this malaise I watched a lot of late night TV cooking shows and no matter how '70's this dish is, it worked for me. There were a few more steps than a typical recipe 4 survival  but this was good for my brain. I had to prioritize and make a number of components in a particular order.  First came making the creamed spinach – an absolute favorite for me while the already refrigerator defrosted puff pastry warmed on my flour sack towel.
Should I make this again I'll definitely use filo dough rather than the puff pastry but that's what I had on hand.
Aside for the salmon & the oysters which was a real splurge, but part of the change your mind exercise & practice every other ingredient I used to make this is a basic staple. Plus the dish comes together in NO TIME at all.
Recipes for Baked Salmon & Creamed Spinach in Puff Pastry
Preheat the oven to 400 degrees
Make Creamed Spinach
1 box frozen chopped spinach. More water in a pan than directed on the box of spinach to cook it down. Salt the water a touch. Drain the cooked spinach over a bowl. Pat and press the spinach to get as much water out of it as possible. Melt a good tablespoon or more of butter in the pan you just cooked the spinach in. Sprinkle some flour into the butter, mix around – this is known as a roux, the basis for sauces and add the spinach cooking water a 1/2 cup at a time to create a cream sauce. Add & fold the cooked spinach into the cream sauce. Season with Salt of D Earth. 
Roll out the puff pastry with a little bench flour on either side. Place the salmon filets on the puff pastry in a way that' you'll have enough pastry to cover each slice. The traditional recipe calls for coating the top of the salmon with mustard, of course I did that but had to 'Make It My Own' and topped one of the pieces with red pepper jelly one of my friends makes regularly. You may also get a kick out of the mustard I used – My Scratchmo Creole mustard – a cherished conDiment I picked up at the famous The Kitchen Witch bookstore in NOLA.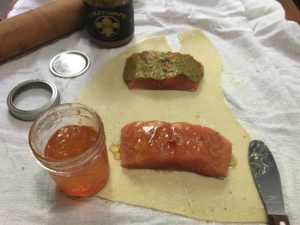 Slice the dough down the center. Top with creamed spinach and wrap the filet completely with the pastry. Brush on an egg wash. Place on a parchment paper lined baking sheet in the oven.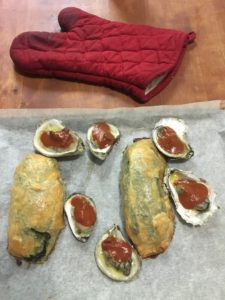 I turned the temp down to 375 and wish I'd cooked this only 20 mins but I think because of the oysters the tray was in the oven closer to 25 minutes. Anyone in their right mind would consider what I did – perfectly cooked.
I took my plate with a fork & a really cold Citadell's Ginger Beer down to the Miracle Garden, and sure enough got a phone call from one of my oldest friends – just checking in. A fan on my instagram page made mention that this is his favorite ginger beer.