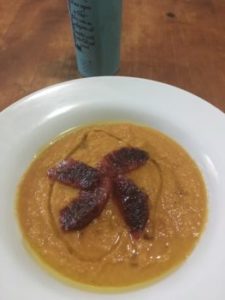 It was in the February Haven's Kitchen newsletter that I clapped on to their Ayurvedic gingery beet flu-fender-offer recipe. Their recipe calls for coconut yogurt which adds probiotics and the blood orange which is the most anti of the anti-oxidants. Coconut is just not a flavor or an ingredient in my taste bank. So let me get you on the path I took to make this absolutely fabulous, show stopping, health supportive, flu beeting soup and hopefully, you'll be Making It Your Own.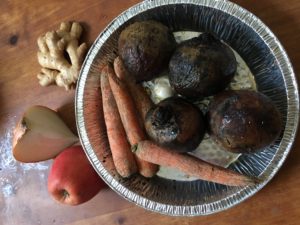 4 beets – roasted whole
2 good sized garlic cloves – roasted in the aluminum foil beet bundle
3 or 4 – carrots – peeled and cut into 1 inch logs or medium chunks
1/4 of a large onion – medium dice
1 apple – peeled and medium cubes
Ginger root – 2 inches of fine young, shiny skin – grated, sliced & or finely minced
1 Vegetable bullion cube
4 Cs boiling water
1/2 C apple cider
1 (blood) orange
Preheat the oven to 375°  Wash the beets well. Randomly poke holes in them w. a fork. Wrap the 4 beets in aluminum foil which I drizzled with olive oil & then a light shower of my Wolf Moon Salt of D Earth blend. Into the oven for 45 mins.
Not only was a surprised when the nifty kitchen trick to take the skin of roasted beets off with a paper towel did NOT work but when I cut off the bottom of the first beet I found I was bestowed with a golden beet. Thrilled with this surprise I immediately switched from mucking around with my mac knife & whipped out my beautiful, birthday gifted Messermeister olive wood handled 8″ chef's knife to expertly remove the beet skins.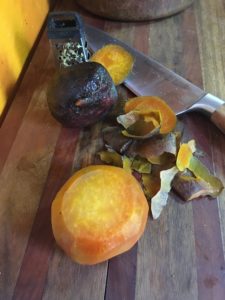 Now it was smooth sailing, drizzle to coat the bottom of a heavy bottomed soup pot, splash a shower of  Salt of D Earth add the diced onion and the roasted garlic, squeezed from their skins, & the grated  ginger. Stir to coat and marry the flavors over a medium to low heat. In less than about 5 minutes add the roasted Dlights, the beets and carrots to the mix. Stir, mix & meddle…thoughts. Think good thoughts, health supportive thoughts. Remain mindful when you're cooking. Hard not to. As in Zen, when you're in the right posture, you're in the right mind. Get it, in the kitchen, right posture, cooking, right mind.  
Add the bullion cube and about 4 Cs of the boiling water. Stir.  This is when I added a nice splash of apple cider, an absolute staple for me. Place a top on the pot, a bit askew, stir and turn the heat down to a simmer.
When the beets have cooked to a point that you can pierce them with a fork, most likely another 15 – 20 minutes. Turn the heat off and let the soup come down to room temperature before blending to a puree.
I've found my new go to soup. I hope you'll find that too.
Much love and here's to Sharing Earth's Delights Whole Heartedly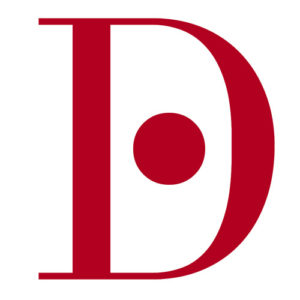 PS: The next piece I'm working on, inspired when I was shopping for the beets for this soup is titled, Ginger, Right to the Root of the Matter. Stay tuned. Looking forward!