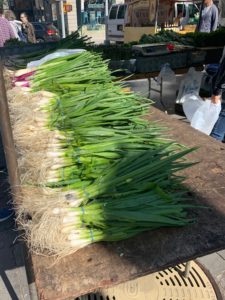 It all started when a friend sent this pic along on a Saturday morning and a text message that read, Scallion pancakes? And I have some smoked salmon. Checking the Bon Appetit recipe on line from my bed, I texted back, I'll have the dough ready in an hour and I was up and 'em.
I'm not going to go so far as to say, you'll love making these so much you may never order them again – because it is a bit of work but I will tell you this, I ate all six scallion pancakes that Saturday afternoon 3 or 4 with the smoked salmon. The dipping sauce with the BA recipe is fine, of course I had my way with that but will get to that – soon.
Here's what to do:
2½ Cs – unbleached flour
1tsp/good pinch – salt
1Ts – sesame oil
1 C – boiling water
2 bunches – scallions – thinly sliced
Whisk the flour & salt in a large bowl. Add the sesame oil and boiling water. The recipe says to mix this with a wooden spoon until a shaggy dough forms. I did this.
Turn the dough out of the bowl onto a lightly floured surface and knead until dough is smooth – about 5 minutes. Shake some flour onto your work surface to prevent sticking as needed.
Put the now smooth dough back into the bowl & cover with plastic wrap. Let it rest at room temperature for an hour.
Divide the dough into 6 pieces.
Working with one piece at a time, roll out on a lightly floured work surface as thin as possible.
I brush the dough with sesame oil, scattered gomasio (which I make and have on hand since it's a basic staple for me) and enough of the sliced scallions to cover the surface – a large pinch.

Roll dough away from you (like a jelly roll) into a thin cylinder,

then, starting at 1 end, wind the roll onto itself to create a coil (like a cinnamon roll).

Repeat with remaining dough. I kept each of the rolled and coiled sections stacked on top of each other layered in a flour sack kitchen towel. Rest at room temperature for 15 minutes.
Working with 1 coil at a time, roll out on a lightly floured surface to about a 5″ round.

Repeat with remaining coils, keep other coils covered and stack as you go.

Heat 1 Tbsp. vegetable oil in a medium skillet over medium-low. Working with one 'pancake' at a time, cook the pancake until blistered, golden brown and crisp on each side. Maybe about 4 minutes per side. I turned the pancake right out onto my plate, topped it with a nice piece of smoked salmon and a tablespoon or more of the
Dipping sauce:
3 Ts rice wine vinegar

2 Ts soy or Tamari sauce

and a good thwack on the bottom of a bottle of sweet chili sauce.
I couldn't dig in fast enough. We ate our scallion pancakes the way my friends eat pizza in Rome – with a knife & fork at the whole 'pie'. And like I said, I finished off all six scallion pancakes that afternoon.
0