I've been cooking & shopping for myself, clients & friends for so long quinoa used to be $1.49/lb. When so few people even knew what it was. Not the case anymore.
Here's what I'm up against: Even tho I'm working for HNW individuals being mindul of costs will never leave me. I think it's so important to always be economically mindful. Quinoa is now running an average of $4.49/lb $5.49/lb – for tri-colored quinoa. Fortunately my client has a good stash in her pantry. Faro, the same story. This grain wasn't even carried until recently with the onset of gluten free diets.  Now everyone wants it and the price has skyrocket. It's no longer sold as a bulk item at Whole Foods and their 365 brand packages for $3.99 were sold out. There was one box available, less than a pound for $9.99. I was out the door. I picked up 2 half pound bags of farro at Dual, the Indian grocery  in the East Village for $3.75 bag. Now that's more like it.
My new clients requested my miso glazed cod w/pan-seared bak-choy for the meal they's enjoy following my 2nd trial of batch cooking.
A few days before this 2nd trial I began prepping a few things so I'd be prepared for the trial when sure enough I was out of mirin, one of the three components in the marinate.  We know how important the sake is
Sake, Brown Baggin It.
Now I was on a mission to get mirin & the cod.
Here's what to do:
Prepare the marinade a day in advance of service.
1/3 Cup on sake
1/3 Cup of mirin
1 Ts brown or raw sugar
3 Ts of white miso paste 
4 6oz filets of cod 
Heat the mirin & sake for about 20 seconds. Add the sugar. Stir until the sugar is dissolved. Turn off the heat & add the miso paste. Stir until well incorporated.  Let this cool well before adding the fish to marinate overnight. 
To cook. Preheat the oven to 400 degrees. Bake for 5 minutes and then adjust the oven to roast – cook for another 2-3 minutes.  Let this rest. 
Serve with pan seared bak-choy & a nice seasoned rice which I added my home made gomasio & chiffinade shiso leaves to. 

What I went through to get Mirin. 
Whole Foods does not carry mirin.  Union Market had a bottle for $11.50. That seemed outrageous to me so I was off to Sunrise Market, the Asian specialty mart on 9th St. in the E. Village. I got there at 10:30PM only to learn that they close on Sundays at 10PM. I ran upstairs to Village Yoko Cho, the Japanese restaurant connected to Sunrise Market. I explained to a lovely young woman manager what I was up against, and this is what she gave me. I went home, prepared the marinade, got a good nights sleep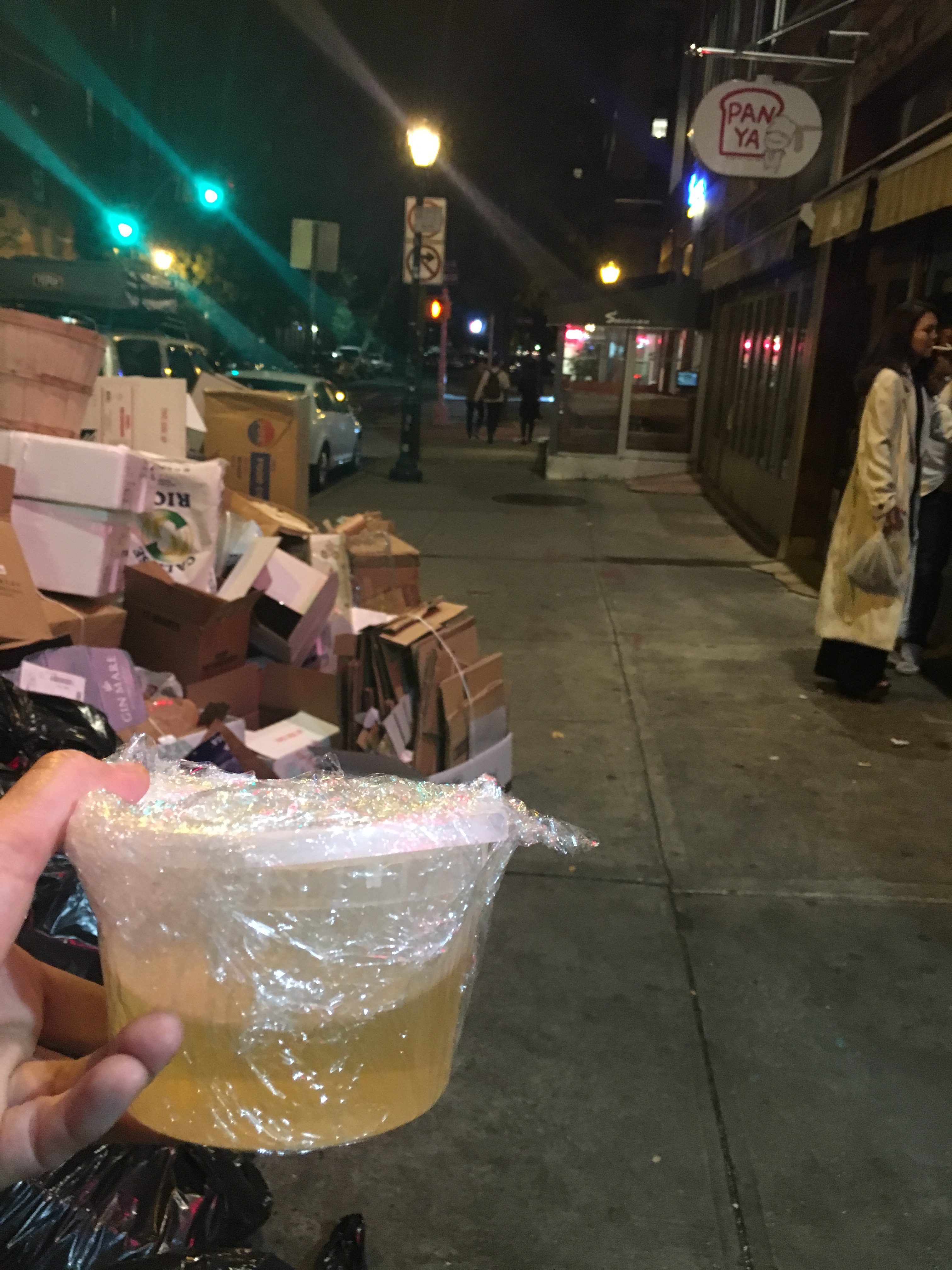 and I had a successful 2nd day trial batch cooking a weeks worth of food for a lovely new family. 
0