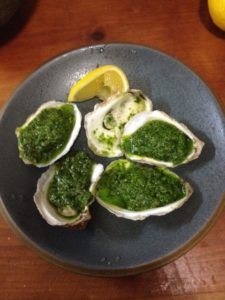 I'm sure you're all wondering, ' How can Oysters Rockefeller be a Recipe 4 Survival?'  I'm not going to labor over the point but on some level, Oysters Rockefeller is a perfect Recipe4Survival. Short of only a few ingredients that are not staples the benefits of the vitamins & minerals intake balance it all out in my book. The dish is quite reasonable to prepare, whether you're up to shucking your own oysters not. If you're not up to shucking oysters they can be opened painlessly by par boiling them.
Over the weekend, a few years back, I was an oyster shucker for an Open Oyster party at The Diamond in Greenpoint. Obsessed with these Fisher Island oysters, I asked if I could take a dozen home with me as my 'tip'.  My request was obliged kindly .
As I sat down to write this piece I had almost forgotten why I even thought to make Oysters Rockefeller in the first place, then I remembered. I got the iDea because I have creamed spinach & butter in the freezer from my crepe making caper last week and 9 unshucked oysters in the vegetable crisper draw in the fridge.
So I began my research into Oysters Rockefeller.  Thanks to Wikipedia I learned that the closest anyone can get to a recipes which of course is top secret and may even have been taken to the grave is that there is no spinach in Antoine's Oyster Rockefeller. The dish was conceived at New Orlean's Antoine's Restaurant after the craze for escargot waned. It is said that there are 18 ingredients in Antoine's recipe. Legend has it that a patron exclaimed with delight after eating this dish, "Why, this is as rich as Rockefeller!"
Seeing that Pernod, Herbsaint or Absinthe is a traditional ingredient in the recipe I was out the door like a bolt to support the liquor store round the corner to get a bottle of Pernod which I love and couldn't imagine why it's been absent from my top shelf.  In any case it was a more reasonably priced bottle of Absinthe, Absinthe ordinaire liqueur that I took home vs. the name brand Pernod which was substantially more expensive and certainly not necessary for this recipe or my gentle sipping – when the mood might hit. With this bottle in hand I then trucked down to the Essex Street Market to get a bunch of Italian, flat leaf parsley, scallions & watercress.  Breadcrumbs, garlic  & capers are staples to me.
So that's it.  Oh, a stick of butter warmed while I was out getting the absinthe & the greens.  Immediately upon getting home, out came my compact Cuisinart to make a compound butter. That's it folks, Oysters Rockefeller is flash baked oysters, with a green, herbal compound butter. NO spinach.  To make a compound butter:
I roughly chopped half of each bunch of the greens, parsley, watercress & scallions. I added this to the warmed stick of butter I broke down into 4 pieces in the Cuisinart. Then I added 3 minced garlic cloves, 2 Ts, capers, & 2 Ts of the Absinthe.
I was so excited I completely forgot to add the breadcrumbs nor did I top them with Parmesan, again not called for in what I think is the closest I could get to the traditional recipe. Tarragon & celery are believed to be in the traditional recipe. I did not feel these ingredients to be necessary but if I had easy access to tarragon, believe me, I'd use it. I'd also use fennel in place of celery but let me tell you – by making a compound butter with basic greens like  I did – I believe you can feel confident saying you made Oysters Rockefeller.
Preheat the oven to 375 °
Make the compound butter as described above.
Shuck or steam to open  the oysters
Cover each oyster with at least a tablespoon of the compound butter.
Place on bed of salt in an oven proof pan and cook off for 7 minutes.
Serve to your friend with a wedge of lemon, a cold bubbly drink of any kind and MMMmmmm.
You'll want more and more, straight away.
Because we were still hungry I whipped up a rice dish with sauteed scallions, parsley & the watercress.