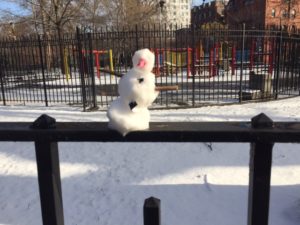 Snow Day and Mushroom Barley soup go together well
I strategically made my way to the last car of the subway so that when I would emerge from being underground I'd be only a few yards from the entrance to the Whole Foods on Bowery & Houston.  Gathering the ingredients for my first ever, mushroom barley soup was all that was on my mind the entire subway ride but for some reason it was the carrots that were the standout ingredient for me.  I picked a perfect carrot for my soup from a heap of fantastic organic carrots & a handful each of: shiitake, cremini & button mushrooms. Then I was on to the bulk grain area to procure the barley. Being that this was the first time I was making mushroom barley soup, I was thrilled to find organic barley among the plethora of plastic silos filled with various rices, grains, beans, granola, etc.  that I did not know to look for pearl barley vs the barley that I happily watched fill the bag in the palm of my hand. At the cash register I declare the contents of the bag as hulled barley since I'd forgotten to weigh & price it at the bulk grains area.
The hulled barley took much longer to cook than pearl barley would which was a bit disappointing and reminded me of wild rice , which has never been a favorite of mine. One of my friends really liked the soup and liked the 'snap' of the very whole barley. Talk about a whole meal in a bowl. I toasted a thick slice of a good sour dough bread and rubbed that with a fresh garlic clove. I had this with pineapple juice & a splash of ginger beer  Very nutritional and comforting.
Here's what I did to make the soup:
Ingredients:
1 – 2 Cs – mushroom stock/broth
1/2 # sliced mushrooms
1/2 a lg onion
2 Ts flour
1 C barley
4 – 6 Cs – veg broth
Baguette slices toasted & rubbed w/a garlic clove
What I did to make this: 
I brought at least about 6 cups of water to a boil in my kettle
I pencil cut the carrot. Very organic shape, quick & easy.
Sliced the stems of the shiitake and a few
of the button mushrooms and brought that to a simmer in about 2 cups of water and let that reduce over a medium to high flame or heat.
Then I methodically sliced the mushrooms.
Diced the medium sized onion.
Added the boiling water to a bowl with one all vegetarian bullion cube in it. Stir that around to make the broth.
Add enough olive oil to coat the bottom of a heavy bottomed pot. Add the carrots & onions and stir well and cook for about 5 mins to soften these ingredients. I find this is best done with a top on between the 'stirs'. Then add about a cup of dried barley and the 2 Ts of flour. Mix well to coat all ingredients in the pot. Lower the heat. Top on.
Strain the mushroom broth over a bowl and add this to the pot of veg, barley & flour mixture.
Then add another 2 or 3 cups of the broth. Stir well, lower the heat, Salt of D.Earth to taste, top on. Simmer. Stir occasionally. This soup took over an hour to cook before the barley was soft enough to serve & eat.
Most likely I'll try this 'recipe' with pearl barley to see if it may cook in less time and to see how it tastes but I'm happy with another happy accident because I think working with the 'hulled barley' which has not been polished added a very earthy, hearty element to the dish. Pretty nice for a dish many expect to find & relish having short-ribs, flanken or brisket in.
Try it, you'll like it!