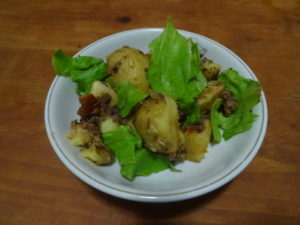 Because it's taking me much longer than I thought to write the Sea Eats, Mustang Galley piece I'm going to post this quick & easy piece for a potato salad with an olive tapenade. Short of the potato cooking trick, a recipe is barely needed.
Friday I listened to Melissa Clark on the Leonard Lopade show, not like it was my profession because I was somewhat distracted by sorting laundry and my Friday cleaning routine but I was inspired by much of what I heard, especially about her yogurt based dressing, very smart but making your own creme fraiche and yogurt – man you're blessed to have that kind of time and like one of the callers brought up – Mexican cremas – ROCK – but that's another piece all together.
If you know your shit and give a damned about potato salad any (serious) cook knows it takes  a bit to get the perfect potato for potato salad, I know the trick and now you will too.
Here's how I made the New Potatoes & Tapenade Salad
Bring 1.5-2# of New or yukon gold potatoes to a boil starting with cold water. When the water's come to a boil, salt the water and bring the heat down to a simmer & cover the pot. It's best to   test how tender the potato is with a paring knife through the potato but don't feel compelled to test before 8 minutes. Today's perfect batch of potatoes simmered for about 15 mins after they had come to a boil. The potatoes, even if you cut them will hold their shape when they're cooked this way.
I made the tapenade while the potatoes cooked by blending the ingredients below in a mini food processor:
1/4# of pitted mixed olives, Greek, French & Italian
4 lg Castelvetrano olives olives
1 Ts + of capers
4 – 6 garlic marinated sundried tomatoes
1 T of olive oil through the drip spout of the food processor
Fresh summer herbs are great, especially Italian flat leaf parsley but I did not have this on hand and I can't stand paying for herbs
Once the potatoes were perfectly cooked I gently poured them into a colander in the sink, then I gently poured them back into the pot they had cooked in and this is where I cut them in half with a paring knife. I let them rest no more than 5 minutes before I gently folded the tapenade into them. I do wish I had parsley, but the warm potatoes served on a bed of lettuce worked just fine.
The following day when they were cold from the fridge I poured in a splash of a sweet Vietnamese vinaigrette, a small dollop of mayo and tossed them in a good sized bowl with a slotted spoon which I then served – to myself as a side dish with over easy egg sandwich
Great snack! Then I ran errands.