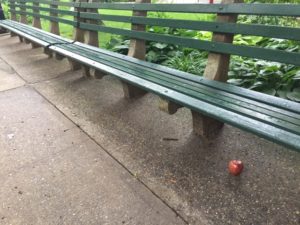 This is the 2nd apple I found on the street this week. I found the first one on East Houston street outside of Whole Foods – understandable, not that this one isn't either. I found this second apple on my way back from the Union Square Farmers Market where I had picked up better than 2 pounds of all organic, just dug out of the ground russet potatoes, because they looked like they'd be so yummy. Right then & there I knew I'd be making a pan sized potato pancake with a 4-5 minute egg or two for my lunch that afternoon.
When I found the 2nd apple under a bench in one of the East Village's community housing development it too was of the Delicious genius or species of apple, for me an inedible lot. Because I can't eat a Delicious apple the first apple I found was still rolling around in the bowl at the end of my kitchen table. I'll spare you the list of modifiers I have for a bad apple.  What I could certainly do is to make a fine apple & onion marmalade which would be a wonderful topping for my Sunday morning pan sized potato pancake for breakfast.
Recipe:
2 Apples – peeled, cored/Dseeded, and cut into chunks
1 Onion – medium dice
I cooked the chunks down with a jolt of pineapple juice, because I have it, Pinot Grigio & a splash of white balsamic. Most people will definitely add sugar. I don't. That's about that folks.
For the potato pancake, I simply grated 2 good sized russet potatoes & tossed in half an onion I diced I had in the fridge. I salted the grated potatoes & onion well, stirred it well & let it sit in the fridge for about 20 minutes.  Friday afternoon I had one pan sized potato pancake w/two soft-medium boiled eggs. I'm going to make the apple onion marmalade now for my breakfast tomorrow.