I came across a picture of Pappa al Pomodoro on instagram about a month ago and it's been branded in my mind since.
Only a few ingredients were noted in the brief instagram post that went into the dish 1. unsalted Tuscan bread 2. a particular tomato paste da/from Italy, some basil, fantastic green olive oil & oh strips of Parmesan that appeared semi melted one deduces from the heat of the zuppa/soup. This lead me to scroll over no less than 6 different recipes, a google translation for Pappa al Ppmodoro since I just wasn't having it being called Tuscan bread Soup when not one of these three words, Tuscan, bread or soup is in the title of dish & recipe. Oh Pappa translates as baby food, al – to the, and Pomodor – is tomato of course
Between Ina Garten, Bon Appetite and a few other's I felt there was just too much going on in their recipes for Pappa al Pomodoro  for what I wanted to do to make this so I went at it – making it MY OWN! It is sO GREAT. EASY & fun to make in no time, plus, 4 basic, staple ingredients. A perfect recipe4survival.
First I went at, half a stale, Balthazar baguette, with a serrated knife cutting on a cutting board, cutting it into irregular cubes – paying no mind to removing the crust.
Then I brought at least 4 cs of water to a boil in my kettle to pour onto a veg bullion cube in a mixing bowl.
I diced up 1/2 a lg onion, a bit of carrot and sliced up a good sized garlic dent. I got these vegis cooking in a heavy bottomed pot with enough olive oil to coat the bottom of the pot & a good pinch of Salt of D Earth over a medium flame. I put a top on the pot to help the vegis sweat. Once they were at the desired tenderness I tossed the stale bread cubes into the pot and tossed to coat everything uniformly.
With the bread nicely coated with the oil & vegis I added 3 cups of the vegetable broth to the pot, covered it, stirred it frequently and turned the heat way down.  At this stage you'll wanna stay around the pot to stir it occasionally.
Once all the broth is absorbed and the bread has softened I poured a 25 oz bottle of Union Market's tomato basil 'sauce'  into the 'mix'/the pot. I stirred a pinch of dried red chili flakes in, some oregano and a bit more Salt of D Earth and I let this simmer over a low eat for a good 10 minutes.
This is when I also put a 4 minute egg. I ate one bowl plane, straight away with a sprinkle of grated Parmesan,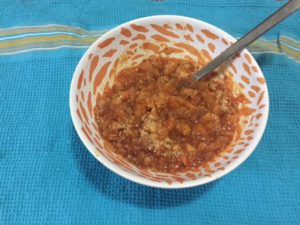 the second bowl I had with the soft boiled egg.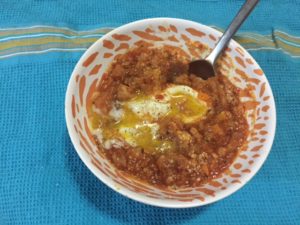 Then I got down to writing this piece.
Killer meal on a cold night with a cold crisp Sauvignon Blanc.