Why it took a small, handled, brown paper bag hanging from the doorknob of my apartment, filled with an over sized lemon, a pack of Twizzlers & a few pieces of my mail that must have gotten mixed up with an anonymous neighbor to finally make the one recipe I've been thinking about since I  splurged and bought myself a signed copy of Mary Ann Caws' The Modern Artists Cookbook after hearing her speak at 192 Books, around my birthday last year.
It was the last weekday of 2016, Friday the 30th, and all I wanted to do was whip up one of my favorite eats: a nice pot of my Ocean State clam chowder and to try to make this Tom Wesselman's Lemon Sponge Pudding recipe I had seared in the back of my mind. The recipe caught my eye & peaked my wonder for a number of reasons, 1. The recipe calls for 4 ingredients 2. They're basic staples 3. Certainly economical to make and 4. I knew it would be crack easy to make.
I started by making the soup then I made the pudding while the soup simmered gently on a back burner in my hand-me-down copper pot.  A can of Iggy's chopped clams w/it's home-style label of a smiling clam sporting a floppy chef's toque on a background of a primary color blue sustained my summer joy long enough when I opened my pantry cupboard.  A can of Iggy's clams is a staple [ingredient] for me so in no time at all I had an abridged version of my Ocean State clam chowder cooking. Here's how: medium diced new potatoes, fennel vs celery for me, a medium diced onion and the can of the chopped clams. Oh a few bay leaves is always nice. Season to taste with S& P or of course Salt of D Earth. I did not add any extra water so this batch was quite 'stewy' – on the thick side but oh sO good.
While of my chowder cooked off I started to make the Lemon Sponge Pudding.
Preheat the oven to 350 degrees
1. Whip egg whites, set aside
2. Cream 1 C of sugar w/1 Ts of butter, mix in the 2 yolks, Add 2Ts of flour,  1 C of milk and the juice of 1 lemon. Mix well to dissolve all the sugar. I did this with a hand mixer
4. Fold the egg whites into this 'batter'.
Spoon into a medium soufflé dish & cooked off in a bain-de-mare = water bath for 25 minutes in the 350 degree oven.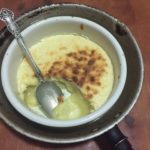 On my Saturday morning walk with RhODy I decided I should throw an end of Hanukkah party since I'd barely lit my menorah yet. I sent out a lovely little invite post on facebook which a handful of friends found amusing but not a lot of takers except for my friends visiting from Newport, RI & their friends.  I made traditional style, Austrian Latkes, which I was thoroughly underwhelmed with, a batch of my Spirited High Holiday apple sauce and OH another delectable topping and all time favorite of mine, my secret, special cranberry sauce and a lot of red wine.
After my inspirational walk with RhODy I took my visiting luminary friend to, you guessed, it, The Whitney, a quick stroll on The Highline, then to Chelsea Market where I picked up a few dozen East coast oysters, also for my Hanukkah party. With shopping done, we jumped into Cull & Pistol for a quick G&T, a Sancerre, a half dozen oysters, where I turned my friend on to Wiley Point (oysters and a few bites: blistered shishito peppers, brandade crostini & Old Bay fries.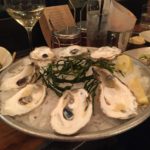 The apple sauce was great. I started it with splash of white wine then tossed my hanDy infuser into the mix packed with some rosemary and I also made my most Dlectable cranberry sauce.
I hope I've inspired you to get into the kitchen. Turn up the flame. Hit it!
RealiD cooking at it's best