Here's an easy one for ya, QUICHE!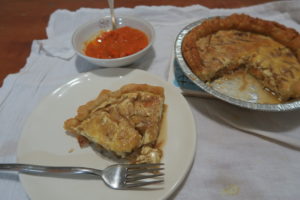 The woman I work with shared a small, Citarella,  prepared quiche, w/me for lunch the other day. She warmed it in the microwave here at work and boy was it good. Having half had me ravenous for more, then I started thinking about the best quiche EVER, that being made by, drum roll please, the illustrious and fantastic Balthazar. Their quiche is like none other, the crust perfect, buttery & slightly salty, flaky & crisp at the same time but it's the custard that slays me. It ain't just scrambled eggs with your favorite variety of steamed or sauteed vegetable, cheeses or cured meats.
I have searched out, relentlessly, countless bookstores to find the Balthazar recipe, my home collection of cookbooks which is quite extensive & of course an number of internet searches of primarily French recipes but to no avail. Recently I found a 'blogger' claiming to have made a Balthazar's quiche but it's the goat cheese & caramelized onion tart recipe she used. WRONG. Does not work.
Here's the trick: you must scald the milk then temper that into the eggs. The basic rule of thumb is 1/2 C milk to one egg. Now here's where the fun comes in. I started this most recent test because I had a little bit more than a cup of milk left over from a quart &half a pint of heavy cream – from my last ice cream making episode. So what I had went into a pot for scalding. Scalding milk is a very mindful act. I no longer wait for the bubbles to form along on the edge of the sauce pot, I stir constantly and LOOK for STEAM to rise from the pot of warming milk. The flame or temperature should be at a low to medium. I feel that by the time the bubbles have made their appearance, the milk is just about to break. It's true. It doesn't take much time before you'll see the steam, it's hot but nothing a cook can't take when testing with a clean finger. Pull the pot off the heath and whisk well. The eggs must also be well scrambled, but not scrambled the hell out of. Gently pour a stream of the warmed milk into the eggs, whisk & repeat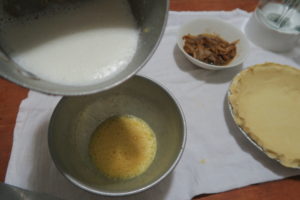 . I use 3 eggs & 1.5 Cs of milk for one pie crust.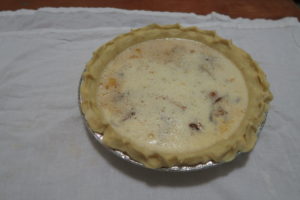 When it comes to crust, I don't do pastry in my East Village apartment so I buy the best quality prepared crusts but most recently I used a puff pastry which I had left over from when I made my tomato tarte tartin.
Having looked at so many French recipes for the quiche custard I ended up filling my quiche w/steamed sliced potato, caramelized onions & anchovies.
Let me put this out therefor ya. Quiche is a fantastic go to for holiday bites. It can accompany so much: Welsh Rarebit, baked brie & cranberries, ham any way, charcuterie plates, & salads galore. Just ask me, I'll come up with a great menu for holiday bites.
Oh right, I made a vegetable puree soup, (in the background) with carrots, red peppers & celery & grape tomatoes I nicked from a crudite display left over from a holiday party at work.