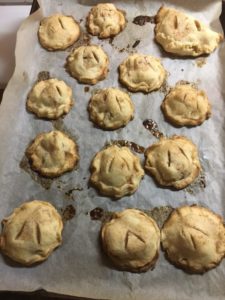 "I learned a lot making these apple hand pies" was the (seemingly simple) one liner I included on my twitter post with this pic above, but I assure you, the sentence is loaded. This entry will be a bit different. Here we go:
Compelled
During the height of the summer when his words via text were flowing I'd scroll by smiling at the countless pics of blueberry hand pies & galettes without the urge to make them.  I was enjoying my summer routine of Ocean State visits, sailing, the joy of friends, great meals and great travels. When his words expressed how much he cared about me from the Alps or maybe it was around a canal in Amsterdam but I knew no action would be taken on his part so I had seethed for too long over this until finally on Mischief night I made my first ever pastry dough in a mini Kitchen-aid food processor no less with the intent to finally make apple hand pies. I halved the recipe I found for, the best apple hand pies, first the pastry dough:  I processed 1C flour with 1T sugar, a pinch of salt, a stick of cold butter cut into pieces and processed by pulsing. The mixture appeared like sand before adding less than a quarter cup of cold water to the mix through the spout of the food processor. The pastry came together beautifully which I formed into a ball on my farm style kitchen table with very little bench flour needed and let that cool in the fridge for 2 hours as the recipe instructed.
Next came dealing with the apples. Peeling, coring then slicing & chopping the apple could not have been more cathartic, a marvelous activity. The music was loud, Metallica if I remember correctly. I tossed the diced apple bits into one of my favorite utilitarian mixing bowls with a splash of lemon juice from a wedge, & a shake of cinnamon  which I have because I'd read about it's uncanny healthful properties when mixed into tea with honey
Again, because this was my first time working with pastry dough, after the two hours of chill time I did the 'obligatory' batting of the pastry w/rolling pin, – not knowing exactly why, only that I'd seen it done on TV. Batting the pastry did me good only elevated my frustration so I simply tore at the ball of cold dough, began to knead that piece in my hand to make it somewhat pliable and only then did I tackle rolling it out. You can see here the various pieces I tore off & rolled out vs getting one large piece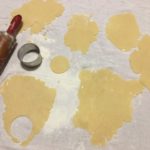 NO matter.
I also realized after making these tiny beautiful things, the 2″ diameter cutter I was working with was – painstaking. The smallest size, anyone of normal mind would work with might be 3″ in diameter. In any case, I knew nothing & carried on.
With the dough neatly cut out, the next step was to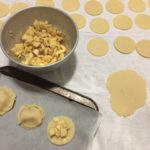 fill & cover the little hand pies.  Again, not knowing a thing of what I was doing it wasn't until I had all the 'pies' covered that I realized they need to be 'vented'.  So I went at them almost recklessly,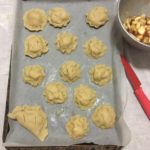 unlike the 2nd time I made them, which I did meticulously,incising 4 small diamond shapes on each of the 'tops' enjoying the process thoroughly. The 2nd time I even remembered to egg washed the tops.  The first batch, pictured here at the top, I spooned the apple, lemon, cinnamon liquid over the top.
I gotta say, out of the oven, that first tiny beautiful hand pie I snapped in half, was absolutely Dlectable! So delicious and memorable, even if my tongue got a little burned, it went along with my mindset.  The 2nd batch I made was fine, but the pastry, just not as great. Maybe the flour to butter ratio was off?  I was about 2 Ts short of a full stick which even the halved recipe calls for but I think it's something else. That naive, reckless abandon energy often works well tho I rarely have it with my cooking.  I won't tell if  you don't tell when I'm on the edge needing to be reeled back in or just delivering out of numbness. No biggy, believe me, anyone eating my little tiny beautiful hand pies would not discern. The batch I bemoaned is now the best.
It's such a shame that it was heartache that brought me to finally tackle making hand pies. Ludicrous. I make them ANY TIME I WANT and that's often now.