How coming across 3 Kumato tomatoes  & the last bit of a Cubanella pepper in my -fridge, left over from a Gazpacho I made for friend's that were in town working during fashion week inspired me to make a cauliflower crusted pizza with a bechamel sauce still brings up a disconnect especially when I initially thought I'd simply incorporate the beautifully prepped tomatoes into a killer mac & cheese but boy oh boy am I THRILLED to have made & shot this for the Recipe 4 Survival youtube 'channel' – UNTIL I noticed the wardrobe malfunction when I downloaded and began to view the 41 segments I taped over two & a half hours that the zipper on my jump suit was down to my belly button & my breast in a very nice bra, thank goodness, are much more seductive to watch than me making a cauliflower crust pizza, which I completely unaware of. SO a week later I set out to make & record another cauliflower crust pizza.
Knowing the frustration I was experiencing after working so hard to make the first cauliflower crust pizza 'episode' a friend told me, "I saw cauliflowers in Union Square Market as big as a human's head." This was about the only thing that would get me motivated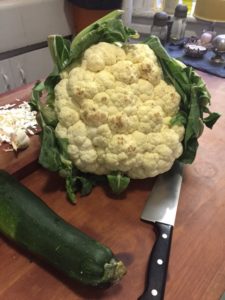 to record another episode. We didn't weigh the fresh, organic, head I found and after not much negotiating I happily gave a smiling bearded farmer in the NW corner of the market $5 and I don't doubt it weighed 5 pounds. I used about a quarter of this head to make the medium sized crust pictured here. The few other ingredients called for to make a cauliflower crust should be in your 'staples' arsenal.  The zucchini & garlic pictured here was the topping for the second video I made wearing a teal, V neck cashmere sweater. No mishaps here. SO make a cauliflower crust pizza already. The video will demonstrate a great new Dparture point and effects….
INGREDIENTS 
1/2 of a medium sized CAULIFLOWER
1/4 C – PARMESAN – finely grated
1/4 C – MOZZARELLA – grated – I used smoked mozzarella
1 EGG
Seasonings – OREGANO, BASIL, S&P
FOOD PROCESSOR or a GRATER
KITCHEN TOWEL
PARCHMENT PAPER
Olive oil
Sheet pan or pizza stone
WHAT TO DO/WHAT I DID TO MAKE THIS
Preheat the oven to 450º
Trim at least half the flowerettes off the central stem of the cauliflower. Put 4 or more into the bowl of a food processor & pulse chop until the cauliflower looks like couscous. If you're using a grater your cauliflower will not look like couscous – no worries.
Bring a pot of enough well salted water to a boil which you'll par cook the cauliflower off in. If you so wish, a number of recipes cook the cauliflower off for four minutes in a microwave – I don't do anything with a microwave and can't remember how it's done. Boil water and cook the cauliflower. I definitely cooked my cauliflower off for more than 4 minutes. I cooked it until I found a few of the large bits I were tender but 4 minutes in boiling water will certainly do.
The big trick to insuring you get a crispy crust & not a soggy one is to lay the strained, par boiled cauliflower on to a kitchen towel to cool. Once all the chopped cauliflower is cool enough to handle, wrap or roll the cauliflower up, like a cigar & ring it out in the sink as best you can.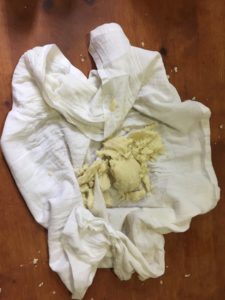 Toss the dried out cook cauliflower, (which looks like the corn filling for a tamale)  into a mixing bowl & add the cheeses, seasonings & one egg, Mix well, I did this quick, quick quick with a whisk. Your hands work wonders too and you'll be using them to form the cauliflower crust into a circle on oiled parchment on the baking surface you're working with. 
Bake until golden brown about 8-10 minutes.
It comes out perfectly,
In the time the 'crust' cooked I whipped up a bechamel but certainly most people will use a good quality tomato sauce & top with your favorite toppings.
Bake again for 5-7 minutes or until the cheese is bubbly & looks the way you'd like.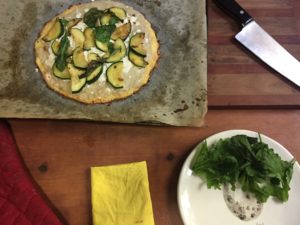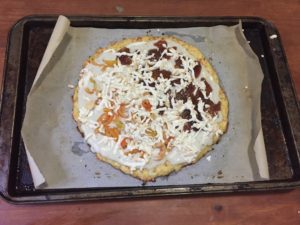 With the left over fresh 1/4 head I made a killer cauliflower, parmesan soup in less than 30 minutes and  I still have about half of this huge head of of trimmed cauliflowerettes in the freezer. You know I'll be eating lots of one of my all time favorite foods.