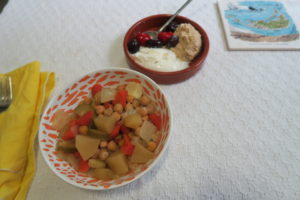 I noticed a friend's post on Facebook this morning with a photo of a simply beautiful plate of vegetable couscous with this comment, "Grandma's couscous was my purpose for coming to Israel." and the hashtag, youcompleteme.
You'd think I'd never made a vegetarian couscous the way I started reading recipes then I quit that as fast as I started it and simply looking at the picture my friend posted I knew just what I was going to do to make myself a Dlicious vegetarian couscous, the perfect dish to make & eat on this muggy, rainy, hot & steamy yet cool at other times Sunday at the end of July and this is what I did:
I purchased organic carrots & a zucchini from the Tibetan farmers that set up along and around Avenue A & 7th St around Tompkins Square Park. I had an onion (or two at home). I could not find sweet potatoes here then I forgot to look for them when I went to Union Market because I had in fact run out of couscous which is an absolute basic staple for me.  Because I was so hungry & this would be such a perfect meal I splurged & bought a can of GOYA's all organic garbanzo/chic-peas. Typically I would only use chic-peas I cooked off myself. I rarely splurge on canned beans but when I do, they must be all organic. I'm thrilled to see GOYA getting into the organic game. OH, and there's a penny I found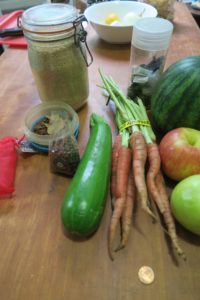 Inspired by the picture alone I started by making a full bodied vegetable broth/Court-Bouillon. I started by steeping a vegetable bullion cube in about 4-6 cups of boiling water in my bestowed by my Stepfather's copper pot. Then I drained the beans into colander over the pot of the steeping vegetable broth to which I added 2 large bay leaves, a cinnamon stick, a smashed garlic clove & a 1/2 teaspoon of Kampot Peppercorns, (a fellow Aries's friend gave me as a birthday present from a recent trip to Cambodia & Thailand) & bits of star anise to my frequently used bespoke D.infuser.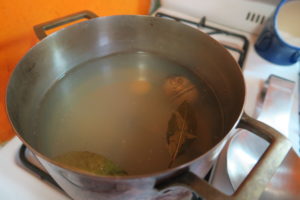 Then I began chopping the ingredients: Carrot.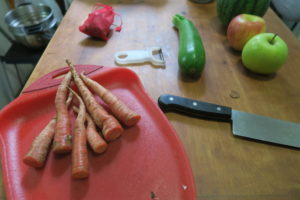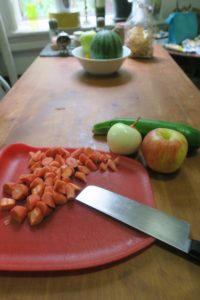 I used 6 small all organic carrots in a medium roll cut. Then 1/2 a Jana Gold apple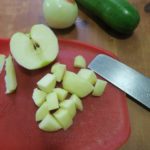 because I didn't see sweet potatoes & forgot to look for them at Union Market – medium dice/chop. then 1 medium sized onion.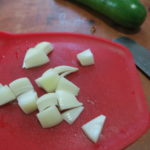 Again – medium chop.  Oh & 1/2 a large zucchini cut in half again then across into a half moon shape.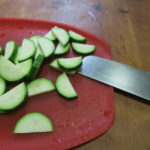 I added the ingredients to the simmering broth in the order I cut them, as described above & let that cook a good 20 – 25 minutes. I added the garbanzo beans the last 5 minutes .
Then I put 1 & 1/4 cups of the simmering broth into another heavy bottomed pot, to which I poured in 1 cup of all organic whole wheat the couscous, stirred that quickly, took it off the heat – meaning I slid the pot with a top on it over to a cool back burner. After 5 minutes I fluffed the perfectly cooked couscous with a fork.
With a large spoon I scooped a good amount of couscous into my favorite soup bowl with the then ladled a serving of the veg & some of the broth on top. I set up a noshing bowl with a dollop of hummus, plain whole milk yogurt, olives and a few pepperdews.
Lunch was killer & could not have been more perfect for today, a day of writing, voice over & work on small paintings. I'm going to call a neighbor I think will love it too.