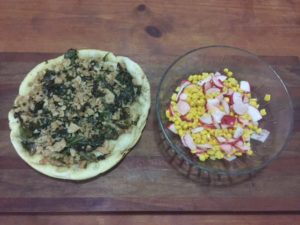 I have a can of Iggy's chopped clams with the cutest label of a smiling clam staring at me from a shelf in my pantry cabinet now for way to long so I was hell bent on making a clam & kale skillet pizza. I was on a rampage to use up ingredients to 'Free up Space'.   I picked up a fresh, all organic pizza dough for a whopping $3 from Two Boot Pizza – hands down one of my favorite pizzas in our serious pizza town.
Such a perfect Recipe 4 Survival
INGREDIENTS I USED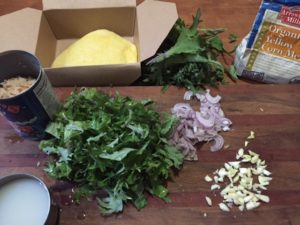 1 prepared organic pizza dough
1/4 bunch of (red leaf) Kale (or swiss chard) – center stem removed and roughly chop the leaves. Wash well in cold water.
1 can of Iggy's chopped clams – drained
Shallots – 1 good sized & 2 dents of garlic – thinly sliced
Corn meal, olive oil – for the pan
S&P or Salt of D Earth – to taste
That's it! From prep to plating, it's less than 30 minutes
Here's' what TO DO:
Preheat your oven to 500 degrees.
Since I was working with a fresh ball of pizza dough – enough for a good 10 inch pizza I began by prepping the kale.  I prepped 4 good sized stems, slicing the leaves off the center stem then a rough chop through that, scoop that up and wash well in a bowl of cold water.
Then I thinly sliced a good sized shallot & 2 dents of garlic.
Coat the pan or skillet with a thin layer of oil & season that with S&P or Salt of D Earth and saute the shallots & garlic – this may take two minutes.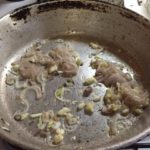 Pop 2 hand fulls of the well washed kale on top of the sauteed shallots & garlic.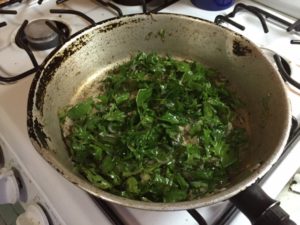 Shake the pan well to saute the contents. Beware of flames – water & oil. Let this wilt & toss well w/tongs – if you have them. That's it. In the time it took to read this you could have cooked this.
Add the drained chopped clams to the sauteed kale, shallots & onions. Mix around to heat thoroughly and turn the cooked contents of the pan out into a bowl which you can cover with a pot top or a plate while you roll out the pizza dough. (Sorry I forgot to snap a pic of this step)
Wipe the pan clean. The pan must be perfectly dry w/no oil residue. Put this back on the heat and sprinkle the bottom of the pan with corn meal. Lay the rolled out pizza dough right into pan. With the heat medium to high let the dough settle in for a minute to form a crust then begin to shake the pan & lift the dough working with a wooden spatula so as to avoid hot spots/burning. Brush or coat the dough with olive oil – however you like.  Another reason I'm so into skillet pizza is because its SO hands on.
Top your skillet pizza with the ingredients (of your choice.) The Bon Appetite recipe calls for rendered bacon as a topping & Parmesan. I can not bring myself to include cheese with seafood! Almost as appalling to me as having a cappuccino after dinner.
Put the pizza skillet into the 500 degree oven and let it cook another 6-8 minutes
The pan & the pizza are screaming hot.
Let them cool.
The pizza will come right out of the pan, cut & serve.
Red, white, Rose', beer, juice for kids whatever…
Skillet pizza is definitely a specialD.
I think it would be nice to serve this pizza with a side of slow baked fish and a fresh salad. I slow baked a blue fish filet with a light layer of  mayo & a corn & radish salad with a light lime & olive oil dressing. NICE meal & making this meal was the perfect example of 'Build it and they will come'. Two friends called out of the blue & joined me for the pizza & the corn and radish salad.
Share some toppings w/me that you use.
ENJOY!!
FoodD
D@recipes4survival.com