Memorial Day Weekend 2016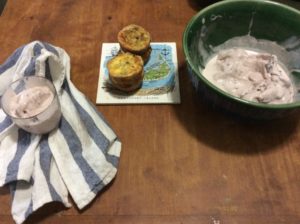 I've been so nose to the grindstone the idea of sorting out travel arrangements to go somewhere feigning I'm suppose to celebrate the summer's arrival was just not in the cards for me so I resigned myself to scouting my friend's new apartment where I'd be preparing a few daytime party bites for her apt. warming party in a few weeks time, recipe testing for that & helping a friend out with child care.  I also finally got myself an ice-cream maker, a gift I said I'd reward myself with the last time I sublet my place.
I scouted my friends place Sunday to check the kitchen & borrowed a muffin tin to test making the requested puff pastry quiches.  They came out better than I expected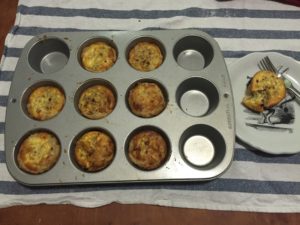 so it looks like they'll be on the final menu.  With the real 'work' & responsibilities out of the way I was off to Bed Bath & Beyond to get me an ice-cream maker. I had a 20% off coupon for in-store purchases that I noticed expired two weeks prior but with a quick check-in with a competent customer service rep they would happily honored the coupon. Their return policy is very flexible and the help is very kind.  Love Bed Bath & Beyond. I got the Cuisinart ice-cream maker.
Where the new acquisition would live/be stored was a concern but my wish to have an ice-cream maker over rode this limiting mind set. In order to have the freezer bowl to be at my ready, stored away on the top shelf in the back of the freezer, I was headlong unraveling & hurling out the likes of shortcake biscuits & plastic to go containers of embarrassingly old potato peel & clam broths but I also unearthed some real finds like a rolled up plastic baggie with a good amount of Ruth Reichl's Spinach & Ricotta Gnocchi which yielded 6 or 7 perfect dumplings I boiled off immediately in well salted water, dressed them with an exquisite smoked olive oil & a shower of my Snow Moon Blend Salt of D Earth and gobbled those right down. I found a few opened pacs of my go to fast food fix, Trader Joes, Cheese & Green Chili Tamales  then deeper along I found half a bag of organic black cherries which spurred the inspiration for what my first batch of homemade ice cream would be – Black Cherry ice cream! What a glorious surprise and inspirational ingredient.   With a clean, orderly freezer and the freezer bowl in place on the top shelf in the back of the freezer and the motor & splatter dome have a perfect spot on top of the -fridge I was off to the Lower East Side Union Market where I picked up the Ronnybrook milk, Five Acre Heavy Cream oh & a bottle of Lakewood Fresh Pressed Black Cherry juice – on a gift card my sister gave me when she came to visit during the winter holidays.
With the freezer bowl sufficiently frozen I whipped up my first batch of ice cream 'batter' at the end of the day on Memorial Day Monday. The recipe I made up even after reviewing just a 'few' haha recipes was: – 1/2 Cup of milk, 1 Cup of the heavy cream  a 1/4 Cup of the cherry juice,may 3 Tbls of raw sugar & 1 Cup, of strained Stonyfield Whole Milk Plain Yogurt then I poured the thawed black cherries & their juice – all into my mini Kitchen-Aid food processor and processed.
It took me way longer to write this piece and  like the directions say, in less than 20 minutes I had myself a serving of fabulous homemade black cherry ice cream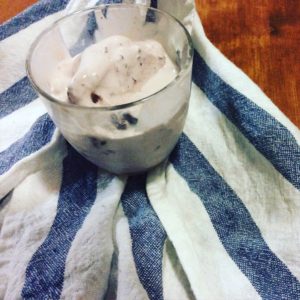 and well over a quart which I scooped into a Tupperware container and into the freezer. It got firmer after a few hours & I had some more for dinner too.