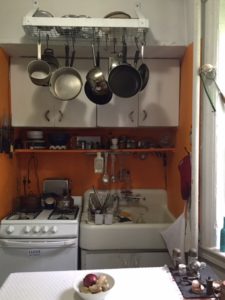 It was towards the end of March with my birthday creeping up on me that I got it in my head that I just may want, never mind need a pot rack.
I think the last straw came the day I was given two bright yellow nesting soufflé dishes and I made my first cheese soufflé
– definitely one of my favorite dishes but the exercise of having to remove all my pots and pans from the oven and scatter them about the kitchen floor or cantilevered off of one & other in the drying dish rack found me ignoring my oven more often than not and for the Utilitarian cook who hardly has all that many pots and pans to begin with – I was feeling this was criminal.
Within a day of having this thought I saw a pot rack hanging in the kitchen of a rental apartment we had just gotten the exclusive listing for – I pose as a real estate sales agent and assistant to a high end broker by day. I took this as a sign, so started looking at pot racks online. The next hurdle would be, if I order the pot rack on line, how do I receive it? There's no way I was going to have that sent to where I work then have to hide it under my desk & get it downtown do I tried to coordinate with a contractor that works in my building to agree to accept delivery of the pot rack and then go into  the apt and install it. In my dreams.  No return of texts to this query & task which I made perfectly clear that he would be gainfully employed for.
A few weeks passed. I was scheduled to show the apt at the end of a day on a Thursday. As usual I go to the apt ahead of the showing to turn on the lights & 'prep the apartment' only to find a painter, Marc, prepping the apartment to begin his job. Immediately I notice the pot rack was gone. I asked Marc if the couple that moved out, "Did they take it with them"?  He said, "Oh no, I removed it this morning." When I say, "Wait, you're not kidding? I want it! Where is it"? "Oh it's in the compactor room." He answers. "I want it"!  "Hang on. I've got to show the apartment now but I've got to get that pot rack."
I show the apartment. Show the client out and turn immediately to the concierge and ask to be shown to the compactor room because I want something that Mark threw away. The concierge starts asking me when he, meaning Marc threw IT out and that I can't go to the compactor room.  I get a bit huffy, never mind undiplomatic when another Super type guy asks me the same question and says, "If he threw it out this morning it won't be there." Now I'm seeing red, "Get me Marc.  Call him on that walkie-talkie hanging on your hip." I doubt I said please when Mark miraculously appears from the service elevator w/a smile on his cherubic Eastern European face.  He's just that kind of guy. Marc escorts me to the 'Compactor Room' which is an immaculately clean area with two dumpsters in it. The pot rack is in one of the dumpsters missing nothing more than two of it's mounting bolts. It's quite heavy, maybe thirty pounds. I drag it out to the courtyard of Worldwide Plaza where this dumb apt is, take a shot of it to send to my mom, then call my friend that takes care of my dog because I know she has a car for the day since she's in active duty location scouting.
I had a drink with my pot rack safely stored in the coat check at the Restaurant Thalia when I waited for Isabelle to get uptown in the car. Getting it home was painless. So like my pots from the oven I slid her under my kitchen table and I began to penser how to install her?
I'm a Mother's Helper on Fridays for a 10, 8 & 1 year old. I've been a part of  the family for over a decade, way before the children were born & the mama came in to her husband's life. As luck would have it I didn't have to start this day until 2PM so my first stop at 9AM was to ACE Hardware at the top of my street for a can of white spray paint and where I also got the ingenious idea to ask if they might have a recommendation for a handyman and YES they did.
With a little help from the construction crew working on my building I was set up with a scrap piece of sheetrock & I was spray painting my pot rack. Kin was expected within a half hour to access the situation & see which bolts he would need. Now here's yet another funny bit, while I was spray painting the pot rack two Mormon Elders passed by and asked if I believed in Jesus & if I'd like a postcard of him? I said I was fine without the postcard but yes I did believe in a Divine Spirit or extraordinary energy & that's how I got this pot rack – with a bit of Divine intervention I explained. They were so excited by the story they even offered to help install the pot rack – just as my man Kin appeared. Let me also add all this was going on nearly the last day of Passover so I feel there was some strong renewing energy around.
An hour later & few hard cash greenbacks & a major cleaning the pot rack was up & I treated myself to a fabulous Middle Easter platter & a lemonade at Cafe Mogador. I was starving and soon sufficed.