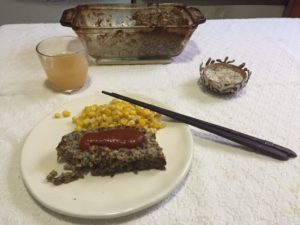 In preparation for Passover I went through my refrigerator & cupboards to search & Dstroy all neglected, forgotten, leftover ingredients taking up space only to realize they would all be perfect to make a nutloaf with.
Here's what I scavenged: 1 Portabello mushroom which a friend gave me since she signed up for one of those meal delivery plans & can't stand mushrooms. A red onion that needed to go to good use & I had 1/2 a plastic bag of faro & some cooked off oatmeal that would have gone right down the toilet had I not used it in this dish. I can see this being a stretch for some folk but it really worked. The nut loaf cooked beautifully and was very moist. This goes to show how forgiving this 'recipe' is.  I had 1/2 a dozen eggs so using three rather than the called for 5 was a no brainer and I had a heel of smoked gouda that had seen better days.  The only thing(s) I purchased was a 2nd Portabello mushroom & some gorgeous farmers cheese which had I remembered I had the cooked oatmeal I would have forgone this ingredient.
If you have cooked rice, or any grain for that matter, putting a nut loaf together takes almost no time at all. Let's say 20-30 mins prep & 40 – 50 mins baking time.
Here's what I did to make this nut loaf.
Preheat the oven to 350°
2 – 3 Cs of a cooked grain –  faro, short grain brown rice, quinoa, cous-cous, oatmeal, …
1/2 large Onion – diced
2 dents of Garlic – minced or diced
2 Portabello Mushroom tops & 1 stem – chopped or pulsed.
sherry – splash – 1/4 cup.
1 C slivered Almonds – toasted
3 eggs – beaten
1 C – farmer's cheese
1 C or more of cheese – Smoke Gouda, Gruyere, or cheddar – grated
1/2 apple –  grated
I used nuts that are staple ingredients for me and I believe everyone should too. I have 1/2 a bag of  walnuts but I'm going to use them in the beet, apple & orange salad I bring to my cousin's Sedar.
I cooked off about a cup of the faro which is completely painless. It cooks in boiling water in under 30 minutes.
Then I quickly diced 1/2 of the red onion, pulsed each of the Portabello mushroom tops & stem in my small food processor then cooked them off in a heavy bottomed pan with just enough olive oil to coat the bottom of the pan, 2 good sized dents of garlic roughly chopped  & 1/2 an onion diced.  I added various pinches of dry herbs, primarily thyme & sage which probably equal about a teaspoon each.  When the mushroom liquid evaporated I splashed in some sherry – a staple for me and let that cook off. Turn off the heat & let the mushroom mixture cool in a bowl. The recipe calls for lots of herbs to be added to the sautéd mushrooms.
Next I toasted the nuts, 1 C of  almonds. This takes no time at all, just until you smell the aroma of the nuts by wafting the air over the pan. I tossed those into small food processor and pulsed.
In a large bowl combine the nuts & whatever cooked grain you're using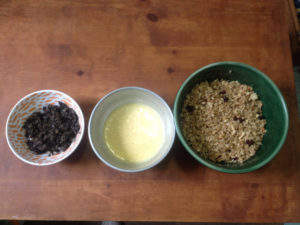 In another bowl beat 3 eggs to which the farmer's cheese,cottage or pot cheese will be mixed into. If I hadn't been able to get the freshest most beautiful farmer's cheese I would have left it out. Season with Salt of D Earth or S & P.
Add sauteed mushrooms to the nut & rice mixture and stir to incorporate well, then the egg & cottage cheese.  This is when I added the smoked Gouda & the grated apple. Mix well. Only because I have flat leaf parsley around from having made anchovy butter toast for my cheese souffle I roughly chopped about 1/4 cup of flat leaf parsley and mixed that in at the very end then poured the mixture into a greased 9″ Pyrex loaf dish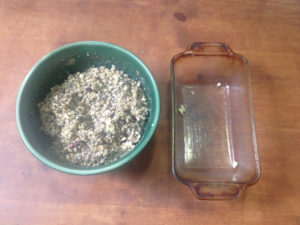 I slid this into the preheated 350° oven and let it cook for 40 minutes, turned the heat off & left the loaf in the oven another good 10 minutes.
Nut loaf is so great on so many levels. It travels well. It's a great pot luck dish for a party, it's filling and again, oh so NUTritious. I blanched a handful of string beans and ate 2 almost piping hot slices in a bowl never taking the time to plate the dish and take a snap for a blog entry – GREAT – NOT…
So the following day I cut out of work & came home and served myself the beautiful dish you see uptop, the nut loaf with steamed corn & Ceres pear juice. Now here's a funny one for ya; I am not a ketchup person but I remembered I picked up a bottle of Rhode Island's own Cowboy sauce which is more a BBQ sauce than a ketchup and poured that on. Oh My God – again, I ate this so fast I could have choked.
I can't speak more highly of this dish. A true new specialD!
There's sO much one can do to make this dish their own it's NUTS.