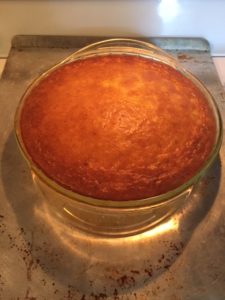 I'm thinking the corn pudding recipe I posted here a few months ago may have prompted the invite and helped secure my place at a 'friends like family' Thanksgiving dinner table just outside the Philadelphia area this year. The simple, 3 hour commute via the quiet, civil NJ Transit & SEPTA trains versus being a particle in the mass exodus up the New England corridor at the mercy of public transportation which is such a nightmare to navigate definitely paved the way for a Thanksgiving I'm truly grateful for on many levels.
I noticed a few procedural actions that needed clarification and a typo or two were corrected.
INGREDIENTS I used:
1 C – creamed corn*
1/4C Turbinado sugar
3T – all organic fine ground corn meal  – the recipe called for all purpose flour
2t – baking powder 
1.5 t – salt
4 – eggs**
2 Cs – milk – the recipe I used as a spring board called for 2 Cs whipping cream
3 Ts – melted butter.  The recipe I used as a spring board called for 1/2 C of butter – melted
2 Cs – all organic corn, cooked, – 1 C yellow kernels & 1 C white kernels
What I DID:
*For the creamed corn: I cooked off 2 Cs of all organic Whole Foods brand of frozen corn, 1 C yellow kernels & 1 C white kernels. I cooked this off over a medium heat in about a 1/4 C of water. While this cooked off I prepared the roux with about 3 Ts of butter & 3 Ts of King Arthur organic unbleached all purpose flour mixed with a whisk until the flour taste is gone and just before the butter begins to brown. Then add the milk, stirring all the while in a steady pour and at least a half cup or more of the corn cooking liquid. NO brainer. Add the drained warmed corn. Incorporate well through the cream sauce. Puree in an appropriate blender or food processor.
For the corn pudding:
Preheat the oven to 350 degrees
Combined the sugar, the corn meal , baking powder & salt in a mixing bowl.
In another bowl whisked the eggs**, I beat 3 of the eggs & separated one – beating that yolk into the 3 beaten eggs and whipped the whites to soft peaks – one recipe I used as a spring board called for 6 lg eggs. Another called for 3 eggs, separated, working with whipped egg whites and beaten yolks.
Add the milk & temper the melted butter into the beaten eggs then gradually add this to the dry ingredients, the sugar, cornmeal, baking powder & salt and whisked until smooth.
Then I added 1 C of  creamed corn & 2 Cs of the yellow & white cooked corn into the batter then fold the egg whites into the batter, mixing gently but thoroughly.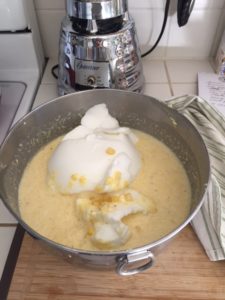 A note here: I found that the egg whites here are stiff peaks. Softer peaks will mix better into the batter, take less time to whip up and work just fine.
I poured this into a prepared, butter greased, 9″ glass pie dish. I fit the glass pie dish over a pan half filled w/water. It cooked for a good 60 minutes. I turned the heat off and let everything stay in place another 15 mins.
In addition to my corn pudding I made a shaved Brussels sprout salad, (half of which I blanched, the other half was left raw) with thinly sliced watermelon radish discs I made from coring the radish. Here's a pic of the salad as a work in progress.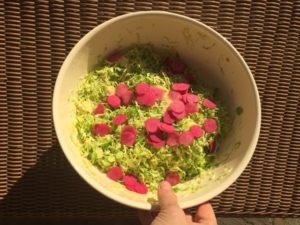 I added the diced honeycrisp apple and lightly coated the salad with a Mirin, orange juice reduction, vinaigrette at the house where our feast went down. 
What I'm most proud of is that one of our dinner guests had my Brussels sprout salad for her first dish at our Friday brunch grazing session.