So here's what compelled me to make spicy scallop Hako, press box sushi.
I was cleaning my refrigerator Solstice morning when I came upon a tube of Harissa I bought many moons ago when I made spicy scallop sushi for a private dinner party some and a neglected pac of nori that looked rather schnurry when I remember that I have a sushi press box squirreled away in one of my kitchen cabinets. So I was off & running – to get fresh scallops, I used sea scallops because they're going to be sliced & diced and I bought beautiful sushi rice oh, and a small tin of powdered wasabi. I would never recommend using wasabi squeezed from a plastic tube.  The powdered variety with water added to it is about the best we can get our hands on
INGREDIENTS
2 cups of SUSHI RICE
Vinegar seasoning – 1 C VINEGAR  1/4C SUGARV& 1t SALT
SEA SCALLOPS – 6 sliced & diced
MAYO – 1 TBLS
HARISSA PASTE – 2 tsps or to your preference
Pickled GINGER, WASABI PASTE & TAMARI sauce
A bowl of WARM WATER & a side TOWEL – if you're not using protective gloves the rice is a bit sticky when you layer it into the box form.
WHAT TO DO:
Wash & (air) dried the sushi rice in a strainer. Cook this off with 3 cups of water, bring to a boil, lower the heat to let the rice simmer & steam with the top on the pot for about 20 minutes. Turn the heat off.
While the rice is cooking prepare the vinegar seasoning. 1 C vinegar, 1/4C sugar & 1t salt.  Warm mixture in a pot until the sugar & salt are dissolved. Let this cool.
Prepare the filling or what ever you may want to use; shrimp, topiko, shisho leaf, pickled dikon, mushrooms,cucumber, avocado it's endless – you're making sushi. I prepared the scallops (6 sea scallops) first by slicing them, then dicing them. I put this in a bowl, added a good sprinkle of Salt of D Earth, RhODy blend & added a scant tablespoon of mayo & 2 teaspoons of the Harissa and mixed well.  Let this chill in a -frige.
Tip the cooked rice into a bowl or onto a tray to let it dry.  Once the rice is sufficiently cooled & dry fold the seasoned vinegar into the rice. Incorporate well.  If the rice seems wet, it will dry.  Refrigerate.
Here's a note.  If you're starving, this is no pret-a porter style dish.  I tried to make the sushi with the rice still warm and the finished pieces did not hold together all that well. When I made the Hako sushi the next day with cold & then room warmed rice it took 5 minutes to make the dish & it came out perfectly. I was able to cut the pieces, plate it & eat it…like I was in a restaurant.
Now begin to layer & press your ingredients into the bottom of the (removable) wooden box that the box is lifted off from and the sushi is cut into 6 equal pieces while on one the bottom wooden surface.
The first layer I put in was plain seasoned rice.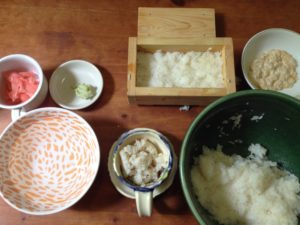 The next & middle layer was the spicy scallop then on top of that I had a layer of rice which I added Gomasio – toasted sesame seas & a good quality sea salt to. I decorated the top with pickled ginger. Press down, turn the box around, press down. take the top off, lift the box off, cut in half then 2 slices from each half to serve six pieces.  Please refer to the video
Plate & serve with Tamari or shoyou sauce and wasabi paste.
A bit about the power of the (Summer) Solstice: Today marks a sacred time of deep renewal. It is the perfect time for letting go of what no longer serves us, clearing out the old, and welcoming in the new.
Here's to keeping it light