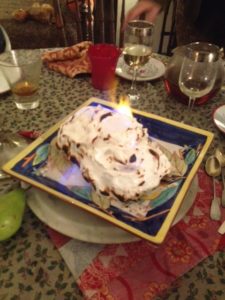 Since having my first Baked Alaska at DBGB Kitchen & Bar, Danial Boulud's sprawling eatery, just doors away from where the legendary CBGB's was on The Bowery, a few weeks back, I have been obsessed reading recipes & watching videos about how to make a Baked Alaska.
After reading all the recipes I did, little did I think that a Baked Alaska would be a perfect Recipe 4 Survival but it is! I knew I could make it so. I served 5 but my Baked Alaska could certainly yield 8 for about $4 and 4 ingredients.
So with: a .99 cent small loaf of pound cake, 2 cups of Trader Joe's Salted Caramel Gelato, Dark Chocolate Roasted Pistachio Toffee bits and a meringue I whipped up, I went at it and the results will certainly be memorable.
If it weren't for my anxiety about making a meringue because there are so many different techniques this project can take no more than a half hour, not including the time the piece sets up in the freezer.  I learned some tricks: The eggs whip better if they are brought to room temperature for at least 30 minutes & I think I've got the proportion of egg white to sugar down and using a 1/4 t of cream of tartar.  That's it, OH and an electric hand mixer since I don't have a suburban counter-top mixers. Now I love making meringue.
Here's what I did:
With the pound cake loaf on an aluminum tray lined w/parchment paper I sliced it's top off  w/a serrated knife. Then I made a trench in the base of the pound cake loaf.
Then I scooped about 2 cups of the Trader Joe's Salted Caramel Gelato to warm in a bowl.  Then I smashed 4 pieces of TJ's dark chocolate covered toffee with pistachio in a brown paper bag I whacked with a rolling pin then poured the Dlectable bites into the ice cream and mixed that about.
I poured a good splash of tangerine juice into a bowl and brushed this onto the cake.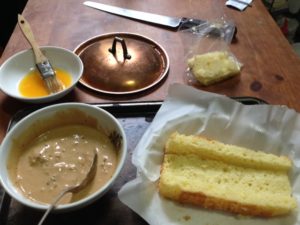 Then I spooned the ice cream & toffee bits, (which had gotten warmer than really need be) into the lengthwise trench in the pound cake, put the top piece on and got that in the freezer to set up.
Then I 'whipped up' the meringue.
I used the egg white from 2 eggs which I mixed with an electric hand mixer until the froth turned white and looked almost like a soft meringue then I started adding the Florida Crystals, an organic sugar a tablespoon at a time. (I ran the Fl. Crystals thru a small food processor tho I don't think it's all that necessary.) I measured out about a cup but used maybe 3/4's of that which I added slowly, one tablespoon at a time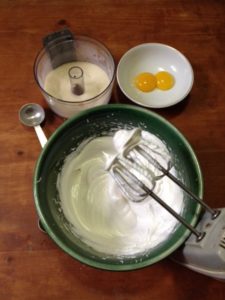 making sure that it was well incorporated and building the meringue stronger. I also added a cap full of vanilla. The meringue came out perfectly.
The ice cream & cake set up perfectly so I began the most fun job of slathering the meringue on and all over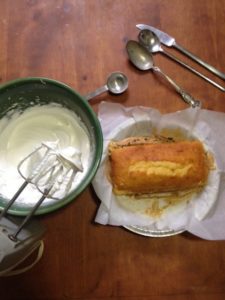 while even creating a well
 from which the Kirsch can burn off. Then back into the freezer before packing the cake into a left over cake box I had and off to a friends place for Xmas dinner.
To serve: put the meringue covered ice cream cake on a serving plate, pour about 1/2 C of Kirsch, a traditional cherry brandy into a small pitcher, light with a match and pour over the cake. The meringue toasts in spots.
The taste and sensation in your mouth is just special, what else can I say.