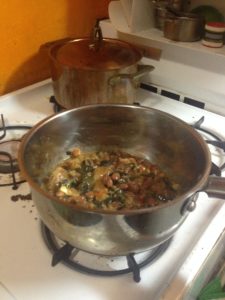 Half a baguette fell out of the fridge onto the floor cracking into various pieces when I went in for my routine Sunday morning refrigerator 'clean'.  For a minute I thought, I'll just make it into breadcrumbs so I opened the freezer to get the container I keep breadcrumbs in when I was stared down by a bag of pre-washed, chopped lacinato/dinosaur kale
I had left over from a private home Dlivery meal I did a few weeks back & a ziplock bag of my good karma baked beans – I'd say at least 2 cups worth.

In the flash of a minute I changed gears and my stale baguette was now destined to be a bread soup. A soup I've never made before so I looked up a couple of recipes  and I was off. No way was I going to waste a good can of tomato paste or fresh herbs on this. I pumped up what I had with basic staples & used only ingredients that needed finishing off.
Here's what I did:
The frozen baked beans went into a pot over a medium flame,
4 handfuls of the frozen kale,
finished the bag off. Then I added 1/2 a medium diced onion I had left over from the Spanish Tortilla I made yesterday morning, rough chopped a dents of garlic then I added about 2 cups of salted water I had in a pot I soft boiled my morning's egg in.  I stirred this all about then broke bits of the stale baguette into these ingredients.
Once the ingredients in the pot started to look like soup I then began to make it into something sweeping through various savored conDiments that were in need of being finished off. First I began w/ a sprinkle of Fall Equinox, Salt of D Earth, 2 or 3 Tablespoons of Susie's Pineapple Pleasure Hot Sauce – The Caribbean Taste – I finished the  bottle off and then the last 1/2″ of  De Nigris Balsamic Ketchup, the bottle I've savored this since getting it last year in Toronto during the film festival & a shake of Worcestershire Sauce.
Then a good through mix again, turned the heat down lower and let it all simmer over a low heat for a good half hour before turning the heat off and making my way with my pup into the depths of China Town for vegetable soup dumplings.