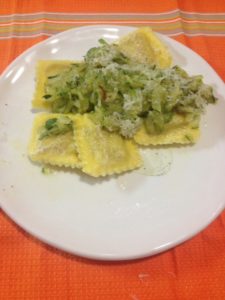 Inspired by my translation from an Italian dish Bill Buford shares in his book Heat, An Amateur's Adventures as a Kitchen Slave, Line Cook, Pasta Maker & Apprentice to a Dante Quoting Butcher in Tuscany  Last night I boiled up, steamed, sweated & sauteed:
Butternut squash ravioli topped with grated zucchini which I sweated with sauteed garlic, a knob of good butter & honey, a sprinkle of my Autumn, RhODy blend of Salt of D Earth and micro-planed Parmesan cheese
Ingredients: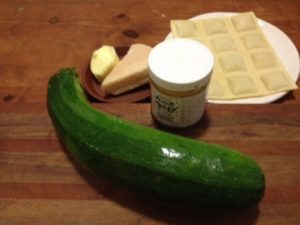 Butternut squash ravioli
Olive oil
Garlic – 3 dents thinly sliced
Zucchini -1 large or 2 medium – skin grated off.
Butter – 2 T
Honey – 3 T
Seasoned salt – pinch
What to do:
I used the Union Market produced fresh butternut squash ravioli & they were wonderful. 2 dozen to the box.  I serve 6 ravioli per person
1 very large or 2 medium zucchini well washed because you're going to  grate the skin off. This way is visually a bit more pleasing because of the green skin vs it mostly being the while pulp. When I make the dish for myself I grate the whole zucchini.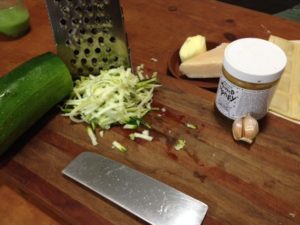 Get a pot of well salted water up to a rolling boil. Add the ravioli & cook to your liking or as directed: most likely 5-7 minutes for fresh 8-10 minutes for frozen.
With the zucchini skin grated get a pan good & hot. Add enough olive oil to coat the bottom of the pan w/enough oil to infuse the oil with the garlic not letting it get brown. Add the grated zucchini.  Saute over a medium heat, again trying to avoid getting any color other than the natural color of the zucchini & garlic.
When the zucchini has softened, which could take a good 4 minutes add a good knob of butter & swirl of honey or at least 2-3 tablespoons. Incorporate well. Turn off the heat.
Plate 4-6 ravioli, top with the zucchini mixture, grate some Parmesan on & a little freshly ground pepper. I love the mixture of red, green & black fresh ground pepper & ENJOY.
Belissimo!