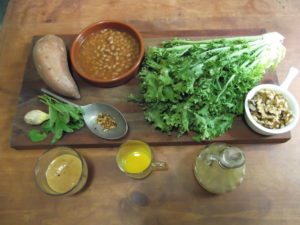 Taking a friend's critique to heart after she watched my Sardinian Lunch 'episode' that I'd lost sight of what Recipe$ 4 Survival stands for. What is the 'survival' aspect of Recipe$ 4 Survival? I knew she was right. SO, with this in mind & heart I've gone full force, back to basics, to prepare a health supportive, nutrient rich meal.
I set out to make a kale salad w/toasted walnuts, mint & a peanut dressing served with a baked sweet potato topped w/baked beans.
Each of these ingredients are hugely rich in nutrients, anti-oxidants, vitamins & minerals while the molasses which is featured in both the peanut dressing & the baked beans is high in iron, calcium & magnesium all needed to maintain good bone health & digestion as well as aiding to lower blood pressure with a very low glycemic count.
Carrots & onions which are called for in the baked beans are also nutrient rich foods.
By the time I tried to shoot this piece for the THIRD time, I steamed the sweet potato rather than baking it which I did the first time I video taped this episode because I was also baking the beans.
For the finished piece on youtube I topped the steamed sweet potato slices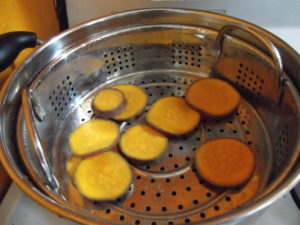 with about a 1/4 C of warmed all organic baked beans from Trader Joe's, enhanced w/molasses, mustard, balsamic ketchup & Worcestershire sauce – each of the ingredients already in the baked beans.
I found the kale to be bloody expensive & I could not find the dark, flat leaf lacinato kale readily available in my neighborhood so I used chicory, which is a very nutrient rich food – in the endive family. I read that Egyptians consumed a great deal of chicory because it was believed to aid in detoxifying the liver. The head of chicory I bought was just beautiful, organic & it cost less than $3.
This salad is made by first going through the head of chicory with a rough chop, then washing it in cold water, then chopping it again more finely. Again, I roughly chopped the walnuts, toasted them off and a good amount of chiffonade mint.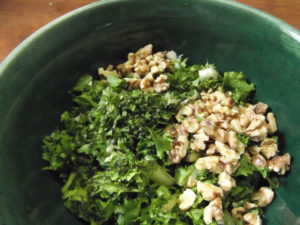 Chiffonade is when you roll up a few leaves of an herb, then cut across giving you fine ribbons of the leaves. If working with or eating chicory is scaring you off, go with the kale – the king of the nutrient rich foods but the salad can also be made with arugula or spinach.
All this and more can be seen in the piece I finally posted to youtube in honor of InDpendence Day.
Eat well & LIVE it UP!
Peanut Dressing recipe:
3 T Peanut butter or Tahini
1 T Molasses
1 T soy or Tamari sauce
4 or 5 peeled slivers of ginger – minced
1 t dried red chili flakes – I used more – you'll see this in the video
3 T warm water or a splash of orange juice.
1 t of oil, sesame is great if you have it otherwise olive oil is just fine
The recipe that inspired me to make this salad & dressing calls to put all the ingredients in a blender but since I (almost) have an aversion to working with electronic equipment, I simply whisked the dressing & it came out just fine.