The prolonged, brutal winter inspired me none to pull my video equipment out & shoot a Recipe 4 Survival but with the hint of Spring in the air, the sun shining , the kitchen cleaned, table moved, & windows opened, I was reaDy for a shoot because I was so inspired by the lunch I had at Ferninando's Focacceria  of sardines, fennel &  raisins over a pile of perfectly cooked spaghetti
Not until I read a few recipes did I realize just what a perfect recipe 4 survival this dish is. The funny thing is, the ingredients you would think I wouldn't have, I happen to.  I would never go so far as to say a Pignoli nut is a staple but bread crumbs, they could be teetering on the border but for me, breadcrumbs are a staple.
SO, relishing in the fact that I had the ingredients that could really kick this dish up in the end was the first thing I prepared.  I toasted off the few Pignoli nuts I had left rolling around in the bottom of their bottle & about 1/3 of a cup of bread crumbs. This took no time at all over a medium heat. Just enough to toast and dry everything out and bring some color to the breadcrumbs. Then I tossed this with a pinch of salt and a splash of olive oil. This is added in at the end. Both these ingredients I happen to have. If they are not staples for you – NO worries.  Be inspired by recipes but make the dish your own.
Then I trimmed and prepped the fennel bulb by slicing the bulb in half vertically then slicing each half thinly I reserved the fronds. Again to added add just before serving. Then I medium diced an onion.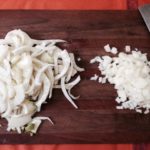 Soaked a handful of golden raisins in a cup of (dry) white wine. I did not have white wine in the house – thanks again to the dread winter we endured so I used some sake, mirin & a splash of absinthe.
One of the recipes I read called for 2 tins of drained sardines. I had one tin of double layered sardines. I did not drain them before adding them to the cooked fennel & onions.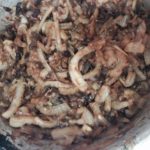 With the Fennel & onion well cooked which took more like 10 minutes, I started a pot of well salted water to boil
I did not have bucatini so I cooked off a 12 oz bag of an  all organic, tri-colored vegetable radiatore 
I then added a good tablespoon of tomato paste to the melted fennel & onions along with the re-hydrated golden raisins in the sake, mirin & absinthe.  With these ingredients married I then folded in the sardines.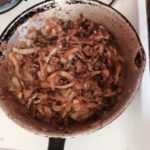 I turned the heat off while the pasta cooked.
I tossed the drained pasta into a big serving bowl and poured the 'sauce' over and folded and stirred well. Then I added the chopped fennel fronds & toasted seasoned bread crumbs & pignoli nuts, a good pinch of Salt of D Earth, RhODy blend, plated, served with a squirt from a quartered orange.  KILLER.
This has got to be about the best dish I can think of to calm the onset of my declining attitude due to the miserable weather we continue to endure.