I've written about & photographed how to make gnocchi since I began working on Recipes 4 Survival, so I'm talking nearly 10 years and not until I was searching through pics for an instagram contest did I realize I've never posted anything about how to make gnocchi.
So here we are, just days into Spring 2014. Everyone's excited because the calendar is telling us it's Spring but I'm paying that no mind & looking at the situation realistically, it's still freezing or downright miserable weather so making gnocchi seems to be a perfect recipe 4 survival to share right about now.
With no qualms about firing up the oven, and the minimal cost for ingredients which no one should have to leave home to get. The only real expense to making gnocchis in the time because many would consider making them, labor intensive. I think it can be a satisfying thing to do on a cold grey Saturday or Sunday.
After reading countless recipes, what I recommend doing to make gnocchi that are not 'sinkers', meaning that they can resemble eating bullets, is to bake the potatoes for 45 minutes to an hour, remove the pulp from the skins, break it up, let it dry out,  then put the dried potato pulp through a ricer adding as little flour as necessary to hold what will become your pasta dough together.  Kneading the riced potato & flour helps to firm the dough,  For beginners I highly recommend adding 1 gently beaten egg. That's it for making the dough, then form a few balls, then coils, then cut 1 inch pieces
The trick is to have as little water or moisture in the mix/the potato & flour dough. I added a lightly scrambled egg to the sweet potato. Tom Colicchio, who's recipe for gnocchi's is one of the most highly touted, he does not use egg in his recipe but Giada does and hers are quite highly regarded too.  A friend of mine who's a chef mentioned the secret of adding corn starch when making gnocchi's from sweet potatoes because they don't have the starch white potatoes do.
By baking the potatoes which I do by washing them, rubbing them w/olive oil & piercing them w/a fork in a couple of places over the potato & tossing them straight into the oven. Another method is to bake them on a bed of salt. As long as you get a dry potato base to work with you'll be fine. That's why I don't just boil them.  If you're in a rush and just want to try it, let me tell, many Italian Nonnas boil the potatoes & have gnocchi made in no time.
This is what it looks like when I'm in the midst of making gnocchi.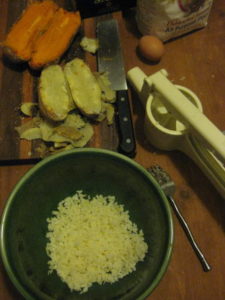 Then I sift about a cup of flour into each riced potato.
form the dough into a ball & begin to knead to build the gluten then pull off a good size chunk to begin forming segments that look like rope.  You'll then cut the dough rope into 1" pieces.
Roll these onto a fork – this helps to hold the sauce onto the gnocchi. SorrREE – I forgot to take a snap of this step in the recipe.
Boil the gnocchi's off in well salted water for about 3 minutes.  Serve with your favorite sauce – mine is an alfredo with mushrooms & peas or Parmesan, Maldon salt, cracked pepper, olive oil & parsley