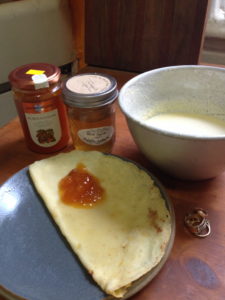 One of my besties, Isabelle is French. It was a Saturday and I was cranky. Bitching & moaning about this and that when Isabelle said, "You just better try and flip a crepe with your left hand tomorrow morning while holding a (gold) coin in your right hand. Its Chandeleur Day and this will bring prosperity to you in the new year. I'm going to do it."
Even w/Isabelle's explanation I went to Google to educate myself on this and then proceeded to whip up a crepe batter
1 C unbleached flour, 2 eggs, 2 C milk,  a pinch of salt & 2 Tablespoons of melted butter.
Mix,(whisk, hand-mixer or a fork) all the ingredients listed above in a bowl then let the batter rest in the refrigerator for at least a half hour. I insisted on doing the first few crepes in my crepe pan which I have to admit I don't think ever really seasoned properly but I wanted to use my crepe pan for this. Isabelle went off on what crap crepe pans are and that it's OK to use a nonstick pan for this exercise.  In place of a French gold coin I held my gold rings in my right hand when I tried to flip the crepe from the crepe pan. I did eventually switch to the non-stick pan and found myself making crepes for the next 2 days.
This picture is of my first crepe which I was able to sort of flip. It's blurry because my fingers were a bit greasy.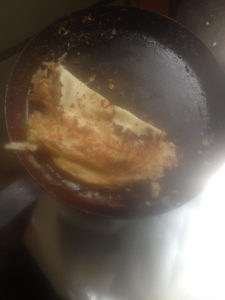 Crepe batter freezes and Dfrosts well. Whip & flip some up. You'll have fun and if you were in the woos, you'll get out of them.