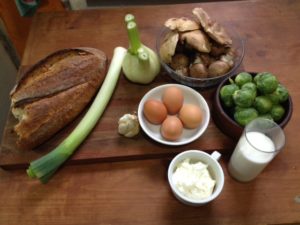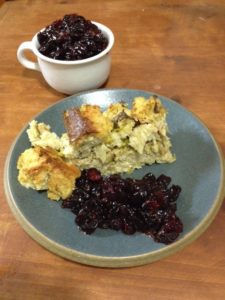 I took RhODy out in the aftermath of winter storm Hercules, the first named snow storm. Our destination the Tompkins Square dog park. Needless to say, it was a night in the park for toughies.  A friend suggested meeting up for a drink at this cool place on Avenue C – after we got our pups home & settled in.  We met up at  ABC Beer Co .   I was a bit cold shouldered on top of being freezing cold because I'm not really a beer drinker but my friend, knowing I'm foodD did not lead on that I would really enjoy the place. What I found when I opened the door of a pretty industrial looking place under an awning was a hip & trendy space that serves crafted beers as well as being purveyors of fine cheeses, artisanal condiments, & cured meats. The place is great. It's roomy, good music, not to loud with a very friendly and knowledgeable staff, but the big find is that they sell day old or late night bread for half price or less. So after drinking a very nice beer and sharing a great conversation I walked off with two loafs of bread for $2.50.  One of the loafs I knew was destined for a savory bread pudding. Here's an iDea of what I did to make what I'm calling Herculean Savory Mushroom Bread Pudding:
I went a bit over board for ones standard mushroom bread pudding, meticulously prepping a wide variety of vegetables but here ya go. Do with this what you may.
INGREDIENTS:
A day old/late loaf of peasant sour dough – crust removed & cubed
Fennel, brussels sprouts, mushrooms: shiitake & cremini, & leeks

I prepped all the ingredients, cubed, shaved, sliced, washed clean, scrambled, 4 eggs with 1/34 C scalded whole milk, mixed & then baked at 375 degrees for 45 minutes.
Then I began by warming enough olive oil to coat the bottom of my pan, a dash of Salt of D Earth – RhODY blend, & 4 smashed & roughly chopped garlic cloves.  Then in went the fennel, then the shaved brussels sprouts, mushrooms then the leeks.
Add the sautéd veg mixture to the cubed bread, pour on the egg mixture & mix.
Then I put a 'layer' of the egg soaked, bread and sautéd veg in a Pyrex loaf dish & shaved some Parmesan cheese on that & a layer of the sautéd veg, then another layer of the egg soaked, bread and sautéd veg.
I then indulged myself by whipping up my secret special cranberry sauce.
Try it, try making a savory bread pudding. You don't have to make it Herculean style, I swear, you'll not only like it, you'll love.