It was a rainy Saturday morning before Memorial Day weekend that I sat with my mom flipping through a Martha Stewart Living magazine at The Sage Cafe,  a new family owned cafe, creperie in Riverside/East Providence when I came upon a stunning picture of glowing yellow pitted orbs of apricots with a few star anise & specks of other spices floating in or on a luscious shiny looking liquid with a circular piece of parchment paper ajar in (probably) a Le Creuset
Once I saw the title of the Dessert – Poached apricots in Lillet  I got it. There's a no brainer for ya but because Ms. Stewart's recipes are so great, I did read through it. Of course I knew I'd make it my own and have.
Reducing the liquid is also such a treat. The aroma of the wine & spices reducing filled my kitchen even with the windows opened.
I've served the poached apricots with dollops of semi warmed vanilla ice cream but really want to serve them with a dollop of honey infused mascarpone drizzled with the Lillet, spice infused reduction 'sauce'.
Ms. Stewart's recipe calls for poaching the apricots in a full bottle of the Lillet. I thought bullocks to this. So this is what I did to make this Dlectable, quick & easy D.ssert:
Half (8) apricots, vertically. Save the pits. I used them in the poaching liquid.
Make the poaching liquid by:
I brought about 1/3 of a bottle of the Lillet, (MStewart calls for a whole bottle)  a cup of orange juice, (not called for in the MS recipe) a splash of cold water,(MS calls for 3 Cups to her bottle of Lillet) I did 2 Ts of coconut sugar, (MS calls for 1/4 C of sugar),  1 split vanilla bean, (1 time I had a vanilla bean, other times I've used a splash of vanilla extract), a few star anise, I used a pinch of multicolored pepper-corns, a lemon wedge, a cinnamon stick and I tossed in the apricot stones/pits – to a simmer, stirring until the sugar dissolved then I added the apricots.
I almost couldn't believe it myself but I did follow MStewart's direction to place a parchment paper round over the simmering apricots because a friend explained how this helps to keep the apricots in place and they will cook more evenly. It's important that the apricots simmer and don't come to a boil. One time they came to a boil & the apricots simply fell apart. They take close to 5-6 mins to poach in the simmering liquid w/the parchment round on top.
Transfer the apricot halves with a slotted spoon to a serving dish.
Begin the reduction process by bringing the poaching liquid to a boil.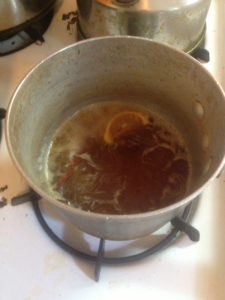 It could take nearly 45 minutes until the poaching liquid has reduced by at least half.  I poured the reduction/sauce into a small creamer and let everything chill in the refrigerator before serving it with, as I said, a dollop of semi warmed vanilla ice cream.
My mouth is watering as I write this. I wanna make this right now but serve it with the honey infused mascarpone. It's Dlicious!
I hope you enjoy this with friends too.