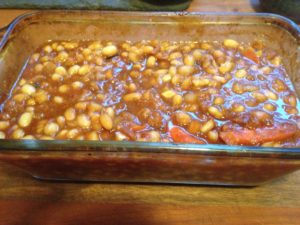 After reading Tamar Adler's piece in The Best Food Writing of 2012 from her book The Everlasting Meal I was inspired to put up a pot of beans. I'm not sure where I got the idea  to make baked beans, I'd never made them, and Ms. Adler goes off on having beans w/eggs, rice, vegis on toast and then into making a Minestrone. I followed her directions to cooking beans short of adding salt to the cooking water. I soaked 1/2 a bag of navy beans overnight in the -frige in a bowl with at least 2″ of water above the beans.  Rinsed them, got them into a heavy bottomed pot and tossed in 2 bay leafs, a few peppercorns, 2 dents of garlic, a sprig of rosemary and some oil into the cold water that was about an inch or more over the beans. Standard, brought the pot to a rolling boil, then lowered the heat, had the top ajar, went to the dog park while the beans simmered. When I got back I turned off the heat and left the beans to saturate themselves sufficiently soaking up their cooking liquids . An hour+ later I drained the beans, reserved some of the cooking liquid  stored them in the fridge and started my day.
The next day I pulled the 'sauce ingredients together.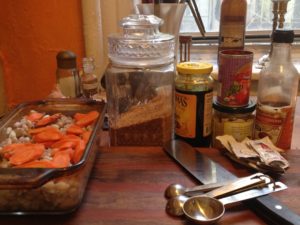 While rummaging through the fridge for the sauce ingredients, the ketchup I used is from nicked & swiped packets stored away in a bag in my veg crisper I came upon a few small carrots, cut them up, steamed them and joyfully got them in to the mix here. All I needed was the molasses. It's such a fun & easy dish to make and let me tell you,  Grandma's Molasses – an absolute staple for me now.  I can see going off with this magic ingredient.
So here's the question – cooking time: if you count the time the beans are soaking, boiling & simmering  & then baking 'cooking time' then I'd have to say plan an additonal 2 – 3 + hours. I consider 'cooking time' the time I'm at the stove and for this dish, that was less than 20 minutes prepping the beans for cooking, peeling, slicing & steaming the carrots & pulling the 'sauce'. IN ANY CASE – these baked beans w/carrots are DLICIOUS!  MAKE 'EM. I've been adding them to cooked off pasta. Reheats easily at work in a paper cup.
WHAT I USED:
3 Cs of cooked navy beans
2 small steamed carrots – pencil cut
1/2 of a medium – large onion – diced
FOR THE SAUCE
Scant 1/4 C Ketchup – 10 packets of take-out Ketchup
1 good sized T Tomato Paste
1/3 C Coconut Sugar
1/4 C Grandma's Molasses
2 t tarragon mustard
Good pinch of Salt of D Earth – RhODy blend
Splash of Red Jacket Summer Blend apple juice
T/splash of Worcestershire Sauce
WHAT I DID:
Preheat oven to 325•
In a casserole or Pyrex oven proof baking dish mix the diced onion & steamed carrots into the cooked beans.
In a sauce pan over a med flame combine the ketchup, tomato paste, coconut sugar, Grandma's (killer) Molasses, mustard, Salt of D Earth, and good splashes of apple juice, & Worcestershire Sauce. Mix until sugar dissolves.
Pour warm sauce over the beans, onion & carrots. Mix carefully. Cover the baking dish w/foil, sit back & write and you'll be enjoying yourself with a Dlectible dish you won't get enough praise for.