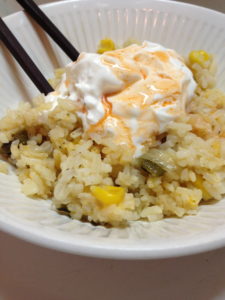 As the cashier swiped 4 pacs of  Trader Joe's sweet corn tamales w/mild green chilies & cheese into a large brown paper grocery bag he told me he'd never tried them. I started in on my rave about them when he told me about this fabulous dish he'd had at Alma, the hot Brooklyn eatery & bar just the night before.  He described the dish as an almost Mexican risotto with green chilies, corn, onion and some kind of cream cheese, maybe sour cream & of course grated cheddar.
I began by roasting, skinning & dicing a pablano pepper.
Then I medium diced and sautéed half a large onion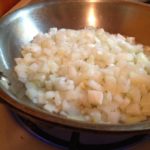 Without getting much or any color to the onions I added the roasted, diced pablano & a scant cup of defrosted corn. Mixed this into the rice, grated some cheddar in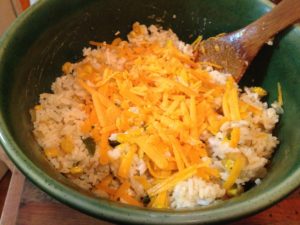 dolloped with sour cream & Tabasco and had my self a heartwarming dish.
The funny thing was that I'd made the dish at least once or twice before I took a look at the Alma site & menu when I noticed that they mention tomatoes being in their Arroz con queso. Believe me, the next time I made this dish, I brought about 3 Tablespoons of Muir Glen's fire roasted tomatoes to a very high heat and topped my rice with this – out of this world.