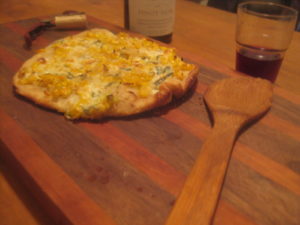 A friend  or mine, who happens to be one of my favorite chefs worked on the Bon Appetit, Clam & Swiss Chard Skillet Pizza shoot a couple of months ago and could not stop raving about it. The recipe definitely works except that I felt I needed to work w/the  dough again. My first try, the dough was too thick for my liking. Not a fault of the recipe – just technique and know how would certainly have me perfecting skillet pizza. SO, it's been knocking 'round in the back of my head for some time now to make it again. You should know by now that I  use recipes as an inspirational spring board only.
I bought, of course, all organic pizza dough, 2 balls in the freezer case at Whole Foods, (for less than $2.) because the recipe explains a brilliant technique for Dfrosting and then working with the pizza dough
If you're using fresh or alreaDy Dfrosted dough – give me a minute here and let me describe this fabulous Dfrosting technique: Bring at least 6 Cs of water to a boil. Fill a bowl that can take boiling liquids, put a cookie tray on top of the steaming bowl of water, sprinkled the cookie sheet with flour, place the frozen dough on it and cover/tent the dough w/plastic wrap. 10 minutes on each side.
Preheat your oven to 500 degrees.
While the dough is Dfrosting prepare your pizza toppings. The pizza I made was sautéed leeks, corn, & basil infused mascarpone.
Once you make a skillet pizza I'd bet anyone $4 that you can make it in just about a half hour.
I prepped the leeks the traditional way, by cutting the leek in half length wise, then thinly slicing across and washing them well in cold water.
Drain the well washed leeks and add to heating olive oil, Salt (of D Earth), & garlic slices in a heavy skillet. Add the corn and cook until just tender. Trader Joe's, all organic frozen corn is really Dlish.
With your toppings cooked, prepared or sorted out and the dough defrosted and ready to work with you're going to roll it out.
Pizza dough is not like working pie crust dough which I find difficult to work with. Pizza dough on the other hand is 'resilient' if you will, really easy to roll out and work with. You just need some 'bench flour' to roll the dough out – into a circular shape that will then fit into your skillet.
Here's a big trick.  After preparing whatever topping you want, you're going to use this pan to cook the pizza in. The pan must be perfectly dry w/no oil residue. Get the pan very hot and sprinkle corn flour over the bottom of the pan.  Place the rolled out dough into the pan.
Brush or coat the dough with olive oil – however you like.  Another reason I'm so into skillet pizza is because its SO hands on.
The first time I tried the recipe I used one whole ball of rolled out dough and fit that in the pan it was just to thick for me.  The toppings I used were sliced steamed carrot, sunchokes & sautéed clams.
This time the pizza – the crust was much thinner, more to my liking and much more organic in shape. It worked perfectly.
Ya wanna keep the bottom from sticking – working with a wooden spatula keep lifting the dough up and shaking the pan a bit.
Ya wanna work fast.
Top your skillet pizza. I laid out the corn and leeks, salt of D Earth, and topped that with dollops of the basil infused mascarpone.
Put the pizza skillet into the 500 degree oven and let it cook another 6-8 minutes.
The pan & the pizza are screaming hot.
Let them cool.
The pizza will come right out of the pan, cut & serve.
Red, white, beer, juice for kids whatever…
It's my newest specialD.
Share w/me some toppings you use.
ENJOY!!
FoodD
D@recipes4survival.com