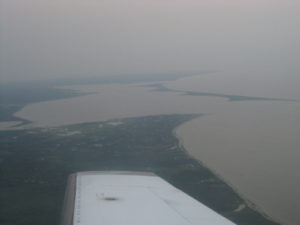 It was an overcast day so it was perfect for a trip out to the Madaket Mall, 'take it or leave it', 'swap shop', 'reuse 'center' at the dump. From here a visit to the Barlett's Farm 'mart' was definitely in order. I left w/a small vidalia onion quiche, 4 ears of corn, a bunch of heirloom 'purple haze' carrots and a yellow watermelon, a treat synonymous with Nantucket to me.
Walking to our car I noticed the Nantucket Catch refrigerator truck with the backdoor opened and a lovely woman in an apron just waiting to hand over her goods.  I got us a gorgeous pound of monk fish.
Here's what I started with to make a lunch in honor of a composer friend visiting the island for the first time.
Our finished lunch was: pan seared Salt of D Earth seasoned flour & dry mustard dusted monk fish medallions, honey roasted roasted purple haze carrots, freshly steamed corn off the cob dressed w/olive oil & sea salt, red quinoa and a sauce of molasses, rose', & a splash of earl grey tea