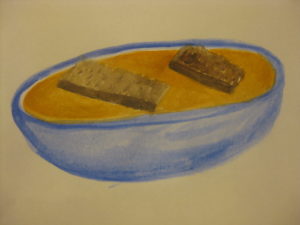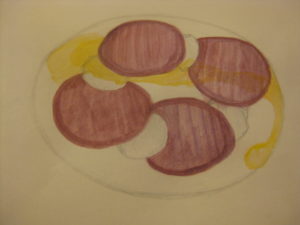 When Monoprix is your oasis and you eat so fast you can't take snaps – this is what we get – a watercolor rendition & another meal inspired from this one.
My friend that opened her home to me on the outskirts of Aix, (en Provence) had not answered two of my phone calls nor a text I sent when I arrived at the TGV station to help get me to her place short of my knowing that her place was close to the  Gare Routière/bus station. When I finally arrived to her place which was a miracle that I found the street on a detailed map, the music was blaring and she was cleaning like a maniac. After a brief conversation to bring each of us to the present, I learned that she was just recently dumped by a guy she had been experiencing such joy with. We took a few nips of the Johnnie Walker red I had from one of my flights out on her terrace while she was hung out laundry to dry, then she was back to cleaning mania in the apartment.
It's Memorial Day Monday pour moi and a public ferier here in France. I relaxed for a bit w/my Essential French book when my friend suggested if I could get some milk and maybe some jambau for her (10 yr old twin) boys which she has raised on her own since they are 2 yrs. old. I suggested some wine.
I was directed to The Super U "Just at the top of the street" from the apartment complex. Let me also add, I've been starving since getting on the train dans Cannes, oh, four hours ago.
Sure enough, the Super U, which I noticed on my way – walking from the Gare Routière – bus station to the apartment, was closed up tight as a drum. Walking away backwards from the Super U which is a huge building in this neck of the woods I spotted an Arab butcher shop opened just round the corner. I entered but it was quickly apparent that I would not be returning with liter of whole milk with Arab writing on it, especially when I was instructed for light/skim lait.
It didn't feel exactly like I was walking through a ghost town but almost. People were about but many businesses were closed.  I forgot to bring my Essential French book and I was really beginning to wonder how this adventure was going to play out as I reached the top of Cours Mirabeau. I remained calm and carried on.  Something told me, "forget searching for groceries in the back streets – especially at this time of day, nearly 7 PM on a public holiday. I stayed my course and in a matter of minutes I noticed a Monoprix – with doors wide open, travelers hanging about, busy as a beehive.
It's hard to imagine in the tight knit, well traveled world we're all a part of now that some may not know of Monoprix – so in short: Monoprix is a French department store and super duper marche/grocer/market w/everything you could ever imagine.
The way I felt when I came upon this Monoprix at nearly 7PM on a public holiday in this most provincial town, it was as though I had come upon Harrods here on the Mirabeau.
This is what I checked out with:
A btl of Rose
Liter of light Lait
1/2 boule of sliced whole grain country bread
A liter of Soup Poissins
1 head of garlic
1 tin of sardines in olive oil
A package of boiled beets
A small round of 'Billy' (goat) chèvre
Montagne Les Voiges fromage
4 apricot
1 nectarine
1 bag of thin cracker crisps
I ate an apricot walking up the stairs to leave after checking out. The first thing I made and ate when I got back to the apartment was a piece of toast, then I prepared the toast for the soupe poissins. I rubbed them with garlic and slathered a think glaze of mayo on the toast pieces. Then I was fine to neatly slice and prepare and plate the beets & chevre with a drizzle of olive oil & cracked pepper. I was wishing for chives for some color – but this wasn't that kind of meal. The liter of soupe poissins came to a good hot temperature over a medium high heat.
My friend ate with her sons while I was out hunting and gathering so I ate with her lovely roommate who speaks very little english – which was fine with me – I was sO hungry. The bottle of Rose' helped a great deal with the conversation; eventually we were all speaking the same language.
This is the meal my friend made the morning of my departure.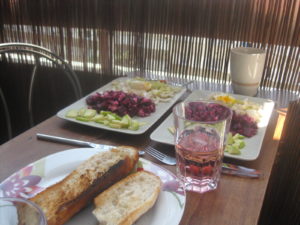 Toasted baguette, frambois infused mineral water with ice, sliced green apple, beets w/chevre, & shaved fennel with a medium soft egg.