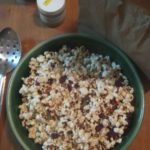 I didn't have much on my agenda for today but to prepare something to bring to my friend's Oscar watching party and buffet. A happening we now describe as a tradition.
I made a Spanish Tortilla for breakfast thinking this would be perfect to bring but ended up eating half of it throughout the day once I learned my friend was already serving a potato dish. I gotta say,  I'm really perfecting the Spanish Tortilla each time I make one now. See entry below.
Sure I could bring a bottle of wine but I really wanted to bring something I made, good for casual eats, finger food buffet, easy to make and  transport, healthful,  Dlicious and fun.  I can't say popcorn for an Oscar party is any surprise but mine was! I was happy to have our spicy, flavorful popcorn to talk about because that ceremony left quite a bit to Dsire.  I got more ooos and ahhs then Billy Crystal did. Maybe you'll try making this:   Freshly popped corn in olive oil topped with Salt of D Earth, curry powder, golden raisins & dried cranberries I whipped up, spiced up, embellished and pour out into  a brown paper bag shook that up and was on my .