Sunny winter SaturDAY eats
Toasted Banana Walnut tea loaf w/Peanut Butter & Beach Plum Jam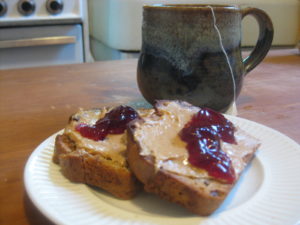 Making It (on) Your Own
What I find so much fun and liberating about cooking is reviewing recipes, seeing what ingredients are called for and then working with what I have, making recipes my own.
I had that all to familiar over ripe banana on my kitchen table for way too long. I started looking up banana bread recipes when I remembered a fabulous moist 'tea loaf' I had during the holidays when I began searching recipes for a banana tea loaf which I thought would be moister than your standard banana bread.  The recipe I chose to work with was English. The measurements were in metrics and from the git go I knew I didn't have enough butter. The recipe called for 3 oz of butter which translates in my mind to 3 Tablespoons – of butter.  I had about two Tablespoons of butter – I added a tablespoon of oil.
You're suppose to 'cream the castor,(fine sugar) and butter 'till fluffy. I only have an old hand mixer and used organic Turbinado sugar. Nothing looked fluffy or creamy about my sugar and butter when I added the two eggs which were meant to be beaten before adding them to the creamed butter and sugar. Next mash the bananas – which becomes a liquid to be added to the dry ingredients: 8 oz of flour a pinch of salt and 1/4 teaspoon of baking soda. sugar & butter, alternating between the liquid of creamed butter, sugar and the eggs and then the mashed bananas.
I had an aluminum loaf pan I didn't even prep, meaning I didn't butter or flour coat the inside. I simply poured the batter into the unprepared, virgin aluminum loaf pan.  I got that into a preheated 350 degree oven. – Wait – maybe the oven wasn't preheated enough. Maybe that could effect the loaf's density and moistness?  Oh right, I remembered I had walnuts in the -fridge and combed them them through the batter in the loaf pan.
As far as I'm concerned this loaf was almost a flop. I was disappointed with the texture, moistness,(or lack there of) and density but I don't believe it's because of the few adjustments I made. If it is – I'm livin' with it & lov'n it actually thanks to the mighty TOASTER.
It's a beautiful sunny winter Saturday.  I went to the Tompkins' Square library to put a number of books on hold. I got hungry on the short walk over there and all I was envisioning was sitting down to a hot cappuccino & a good croissant. Luckily the perfect place isn't between my place and the library – SMILE
I came home and whipped that banana walnut loaf out of the freezer.I cut two nice slab like slices w/a serrated knife and into the toaster they went.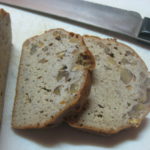 Toasting is a prescription I can see getting addicted to.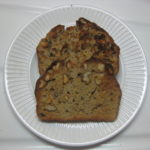 I liberally spread good organic peanut butter onto the two toasted banana walnut loaf slices and topped each with a tablespoon of East Hampton beach plum jam – a delicacy item I cherish and savor and a steaming cup of Yogi Black Chai tea.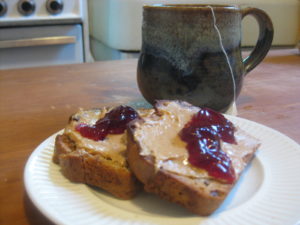 As I sat down and dug into my toasted banana walnut loaf slice, PB & J and took a good long sip of that tea I had a laugh as I heard the voice of  an old mate/friend  in my head saying, "PB & J on toast, that's the "Breakfast of Champions". I must say I'm feel'n like a Hero as I sit here perfectly satiated, happily writing this piece.